progress
begun Jan. 5th, 2007
projected completion in May 2007
the current stage: installation
Waiting for final approval from building management to proceed with mural installation.
project update: how is the project progressing?
May 28, 2007Final touches on the painting are finished. The mural will be temporarily mounted in the 3rd floor hallway of Renewal Presbyterian Church, at 4723 Spruce St. Feel free to come visit it.
May 22, 2007The houses on the left wall are done.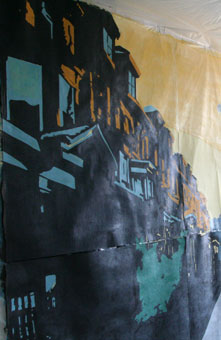 May 15, 2007Almost finished: working on the shadow coat for the houses on the left, need to clean up the sky and street.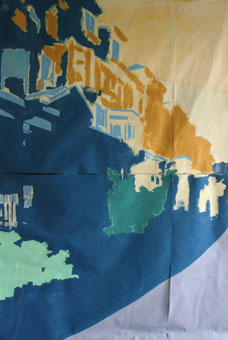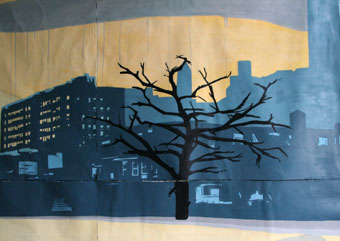 May 3, 2007 Details begin to emerge with the first base coat on the right side of the streetscape.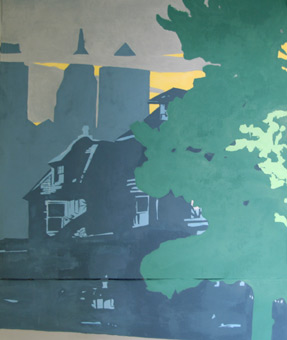 May 2, 2007 After about 2 full weeks of painting, the mural is coming to life. Most of the base coats are complete, should be done by the end of this week. Next week will be for more highlights and color washes.

Apr 20, 2007Painting commences on Wednesday, April 18th: base coats and initial glazes are applied to sky and street, cloud base coat is filled in, and first highlights are covered.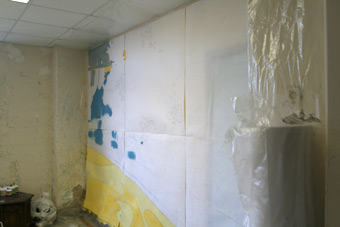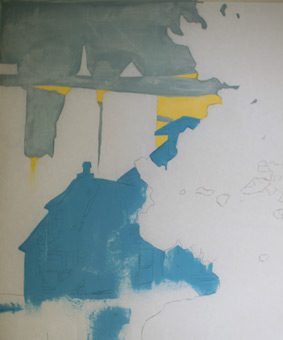 Apr 17, 2007Panel backs were sprayed with Novaplex medium for sealing purposes. Panels are just about ready to hang on the wall and begin painting.
Apr 14, 2007We cut 4x4 foot panels of parachute cloth and transferred the design to the panels. Thanks to everyone who came out to help.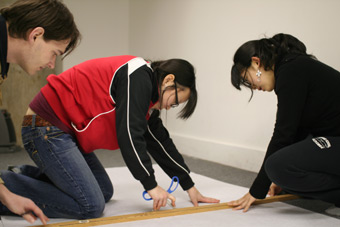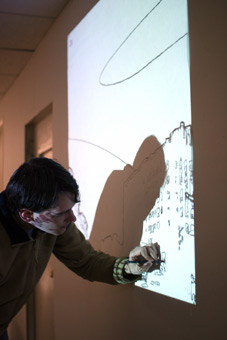 Apr 9, 2007Order of initial wave of materials is complete, should arrive by the end of the week. Excitement for project builds.
Mar 25, 2007Presentation of mural project to Renewal congregation. Open invitation for involvement and volunteers.
Mar 23, 2007After a productive and thought-provoking meeting with residents of the Sheldrake apartment building, the mural project will be presented before the Renewal congregation on Sunday, March 25th.
Mar 19, 2007We cleaned out and prepared a studio in the Renewal church building, taking it from slightly weather-worn and stuff-filled to clean and plastic-covered. Thanks to all who volunteered their time and energy.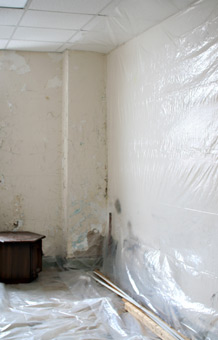 Mar 6, 2007A meeting with the tenants and management of The Sheldrake apartment building is scheduled for March 21st, at 4:00pm. We will discuss the project and get their feedback on the design and proposed mural location on wall.
Mar 4, 2007Studio clean up and preparation day is scheduled for March 17th, starting at 11am. Click here if you are interested in how you can be involved.
Feb 27, 2007The mural project is coming along quite smoothly. Initial talks have begun with one of the prospective sites owners, and they are receptive to the initial design and project; further meetings will determine where the mural is finally located. Discussions with the Renewal leadership team have been excited and positive toward the prospect of a visual way to bless the community.