---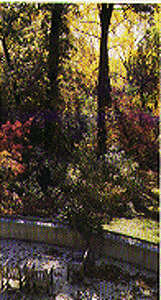 The Scott Arboretum
---
Winter, spring, summer and fall -- all seasons at the Swarthmore College campus are filled with botanical splendors. The Scott Arboretum covers more than 110 acres of the Swarthmore College campus, including Crum Creek and grows over 3,000 different kinds of plants. Established in 1929 as a living memorial to Arthur Hoyt Scott (Swat alum of 1895), the Arboretum is available to the public year-round, free-of-charge. As every Swattie knows, the campus is filled with a wide range of different plants, trees and flowers, each labeled with both their common and Latin names.
---
The Arboretum's major plant collections include:
conifers
dogwoods
hydrangeas
maples
native azaleas
quinces
rhododendrons
tree peonies
viburnums
wisteria
and witch-hazels
Other areas of special note are the Terry Shane Teaching Garden, the Scott Entrance Garden, the Dean Bond Rose Garden ,the Sue Schmidt Garden,the Theresa Lang Garden of Fragrance, the Harry Wood Garden, and the Winter Garden.
---
Map
See a map of the Scott Arboretum
---
The Artist
Barbara Seymour is a Swarthmore alumna and a talented artist who has created many incredible paintings, drawings and other forms of art showing the beauties of the Scott Arboretum. One such piece of art is her map of the Arboretum, which is featured in A Walking Guide to the Scott Arboretum of Swarthmore College. This brochure can be found in many spots on campus in waterproof stands. A collection of Ms. Seymour's art will be on display in Swarthmore's McCabe Library May 1 to June 30, 1996. The hours of McCabe Library are M-F 8:30 to 4:30, Saturday 9:00 to 6:00, and Sunday 1:00 to 10:00. Come see her art -- it's definitely worth checking out!
---
Directions to Swarthmore College
For direction information, you can call the Scott Arboretum at
(610) 328-8025
See this for specific directions
---