Longwood Gardens
---
Forty minutes away, Longwood Gardens is favorite among
many students for a relief from the Swarthmore norm.
On a 1050 acres, this estate offers a huge variety of sites
including greenhouses, ponds, meadows and the mansion itself.
Pierre S. duPont is the owner and architect of the estate.
Biology classes go on fieldtrips to Gardens to observe
the different plant species from around the world. While
it is a tourist trap, don't let the cheesy photos and
crowds scare you away because the estate is much
better than is shown in the pamphlets.
---
Gardens: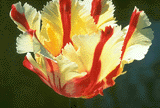 Autumn and Winter
During October 1-25 is the height of the autumn
colors at Longwood and they highlight
such trees as scarlet sweet gums and northern
red oaks. They also recommend the Flower
Garden Walk which also comes out in brilliant
colors. October 26 through November they
feature over 15,000 varieties of chrysanthemums.
They also have a big to-do around Christmas
with tons of poinsettas and christmas trees.
Even in the winter Longwood is nice because
of the extensive greenhouses that are
practically steam baths throughout the year.
The brilliant greens are a relief from the
greys of Swarthmore Winter.



---
Spring
From January through the end of April they are growing bulbs in the four
acres of greenhouses which by Easter are up in their full glory. From the
beginning of April through May the outdoors is also nice due to the flowering
cherries and magnolias.
---
Our Recommendations
Some of our favorite spots include the Banana House, the huge Bonzai exhibit,
the Silver Garden and finally the Orchid House. In the summertime obviously
the Gardens are more outdoor oriented and there is a duck pond, pleasant walks
and several gardens one of which is the Rose Garden. There are many
activities throughout the year none of which we have been to but the
Longwood Garden Page outlines the activities calandar.
---
Technical Information
Directions:
It is really easy to get to Longwood Gardens by car from
Swarthmore. Take 476 N to Route 1 South and in
about a half an hour you should see signs for
Longwood Gardens. It should take a total of forty
minutes to get there.
Hours
The outdoor gardens open at 9 am and the Conservatory (i.e. Greenhouses and
the mansion itself open at 10 am. They are open every day of the year
including Christmas and Thanksgiving.
Address
You can write to Longwood at:
PO Box 501
Kennet Square, PA 19348-0501
Telephone
For recorded message about hours, what's in season, etc. call (800)-737-5500
To speak to a person you can call (610)-388-1000.
---
Links to Longwood
Longwood Gardens has a Graduate Program that has several different options for
courses such as Museum Studies or Research