What am I up to this summer?
June 1996
I'm a lazy bum! Basically I've just been relaxing and taking it easy this summer, kicking back in Ashland. I work most nights as an usher for the Oregon Shakespeare Festival, a job I really love. (The photo shows 1995's usher crew.) This means most of my days have been free. When I first got back from school, I slept a lot -- necessary after the intensity of Swat's academics (esp. considering my 3 all-nighters in a row the last week there). Since my recuperation period I have: gone on hikes and mountain bike rides; had a cherry-picking cobbler-making day with Django & Thomas; accompanied Laurie on a new car test drive; snuck into Bard's Inn to use their hot tub; finally saw The Blues Brothers with Derek & Ko; helped John repaint my newly remodeled bedroom; and lots of other summer stuff.




August 26, 1996

I now have less than a week before I go back to school at Swarthmore College. I wish I had more time to relax & have fun, for I look back on this summer with a ton of fond memories:

I went to Pinecrest Lake with Noli's family for a week of swimming, hiking, canoeing, star-gazing, card-playing, reading and laughing.
Charley gave Noli and I some great pottery lessons, letting me enjoy the satisfaction of squishing clay through my fingers. I made a couple bowls on the potter's wheel.
I've gone rafting several times, which is a tradition with some of my friends that I absolutely love. Ko, Derek and I go with others to the Rogue River, floating from Galice to Dead Man's Creek in inflatable Tahitis. We always bring a bunch of dip-sticks, causing hours of exciting water fights in the hot sun. I also went on a true white-water rafting trip earlier this month with John, Matt and Margaret. We had a blast on the upper Klamath River going through adrenaline-inducing Class V rapids!
I joined the Key of C Bowling Team for a night, knockin down the pins with Faith, Steve and Adam.
I went peach-picking with Charley & Noli at the Valley View Orchards. John then got a new blender, and we've been making tons o' fresh-fruit smoothies.
The 3rd Street Gang got in the habit of going up to the reservior at the top of Lithia Park to go swimming. The cold water feels perfect on hot late afternoons.
Rob was the first Swattie to visit me at home here in Ashland. He got to see Romeo & Juliet, as well as Coriolanus. We also went to Jacksonville for the annual Arts Fair.
Cedar, Ko and I had a chocolate-fest! One day we gathered in Ko's kitchen and made incredibly rich, gourmet chocolate mousse and fudge-filled pastries. I never thought there was such thing as too much chocolate, but that afternoon I reached a level where I couldn't handle one more bite of the stuff. Mmmmm...
What else? Pleasure reading, hangin' out with my sis, movie-watching, spontaneous road trips, working on my web page (obviously), coffee-shop boppin', recording my dreams and other summer stuff.
---
In early June, a group of friends organized a little trip to nearby Emigrant Lake, right outside of Ashland. It was fun to spend the afternoon hanging out in the sun, playing cards & frisbee, swimming, laughing and eating the food we all brought. Here are some photos: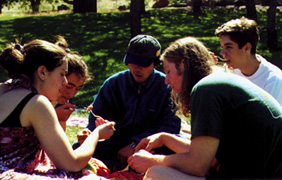 Shana, Kestrel, Ko, Jacob & Derek (l-r) eating watermelon.
---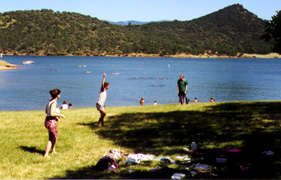 here you get to see a view of the lake (with Shana, Kestrel and Jacob in the foreground standing on the grass).
---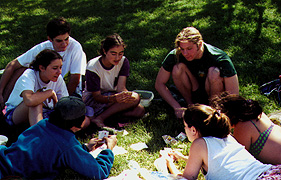 this pic shows Ko, Noli, Derek, Kestrel, Jacob, Melina and Shana (clockwise from bottom left-hand corner) playing Dajhemie -- a very fun & addictive card game.
---
This Must be the Place (Naive Melody)

Home is where I want to be
Pick me up and turn me round
I feel numb - burn with a weak heart
(So I) guess I must be having fun
The less we say about it the better
Make it up as we go along
Feet on the ground
Head in the sky
It's ok I know nothing's wrong . . nothing

Hi yo I got plenty of time
Hi yo you got light in your eyes
And you're standing here beside me
I love the passing of time
Never for money
Always for love
Cover up + say goodnight . . . say goodnight

Home - is where I want to be
But I guess I'm already there
I come home - -she lifted up her wings
Guess that this must be the place
I can't tell one from another
Did I find you, or you find me?
There was a time Before we were born
If someone asks, this where I'll be . . . where I'll be

Hi yo We drift in and out
Hi yo sing into my mouth
Out of all those kinds of people
You got a face with a view
I'm just an animal looking for a home
Share the same space for a minute or two
And you love me till my heart stops
Love me till I'm dead
Eyes that light up, eyes look through you
Cover up the blank spots
Hit me on the head Ah ooh

--Talking Heads, from the SPEAKING IN TONGUES album

---

back to main page | go to my friends page