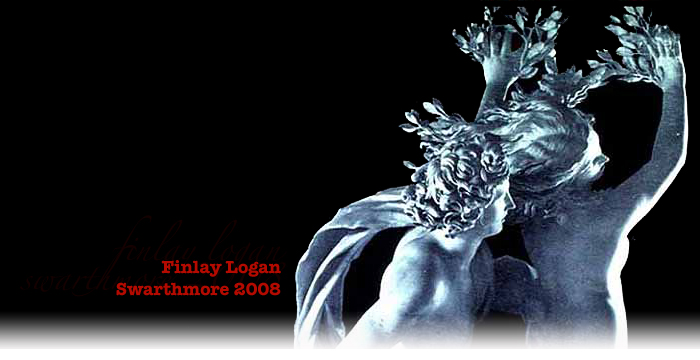 My radio show here is called All This Glory. The name was taken from a line of a sonnet written by Fulke Greville, Lord Brooke (ah, how I love his name!) and recorded by Unto Ashes:
When as man's life, the light of human lust,
In socket of his early lanthorne burnes,
That all this glory unto ashes must,
And generation to corruption turnes;
Then fond desires that onely feare their end,
Doe vainly wish for life, but to amend.
But when this life is from the body fled,
To see it selfe in that eternall Glasse,
Where time doth end, and thoughts accuse the dead,
Where all to come, is one with all that was;
Then living men aske how he left his breath,
That while he lived he never thought of death.
I play an hour-long set of music from all over the Gothic spectrum, from Old-School and Deathrock to Ethereal/Darkwave to Industrial and Experimental, with other genres thrown in for fun and enlightenment. You can listen to the show, but not until I actually start hosting one again. I also have a series of shorter playlists that were submitted to SDME (SWAPA Digital Music Exchange).
Fall 2004
Spring 2005
November 1st
Faith and the Muse - Joy
Faith and the Muse - Scars Flown Proud
Unto Ashes - Sonnet 87 (When As Man's Life)
Nicki Jaine - Pretty Faces
The Dresden Dolls - Gravity
Android Lust - Another Void
Qntal - Floris e Blanchaflor
Nick Cave and the Bad Seeds - There is a Town
Seraphim Shock - Kitty's Dead
The Shroud - Alice
Zoar - Ashes Falling (Ol Doinyo Lengai)
Dead Can Dance - Severance
Cocteau Twins - Athol-Brose
The Brides - Dress Code Blue
The Sisters of Mercy - Lucretia My Reflection
November 8th
black tape for a blue girl - glow
black tape for a blue girl - tarnished
Joy Division - Transmission
Love is Colder than Death - Oxeia
Folk Fiction - Lately
Einstürzende Neubaten - Ich Gehe Jetzt
Lovespirals - You Girl
Tones on Tail - War
Siouxsie and the Banshees - Into the Light
Wolfsheim - Heroin She Said
Requiem in White - Santonin Kiss
Datura - Demon
Death in June - Symbols of the Sun
Nick Cave and the Bad Seeds - The Lyre of Orpheus
Unto Ashes - Let's Go Down
November 15th
Bauhaus - Double Dare
The Cure - A Night Like This
Christian Death - Romeo's Distress Fields of the Nephilim - Moonchild
Rasputina - Transylvanian Concubine
Sisters of Mercy - First and Last and Always
Switchblade Symphony - Wicked
Killing Joke - Love Like Blood
Siouxsie and the Banshees - Spellbound
Depeche Mode - Halo
The Mission - Wasteland
And One - Panzermensch
November 22nd
Apocalyptica - Romance
Erben der Schöpfung - Sleep and Death
Eisbrecher - Schwarze Witwe
Einstürzende Neubaten - Der Weg ins Freie
The Jesus and Mary Chain - Happy When It Rains
Nicki Jaine - Antarctica
The Empire Hideous - Two Minutes 'Til Midnight
Faith and the Muse - Sparks
The Dresden Dolls - Girl Anachronism
HIM - Poison Girl
Qntal - Am Morgen Fruo
David Bowie - I Have Not Been to Oxford Town
London After Midnight - HATE!
November 29th
Unto Ashes - Funeral March for Queen Mary
Faith and the Muse - The Silver Circle
Suspiria - Allegedly, Dancefloor Tragedy
Hungry Lucy - Bed of Flames
Depeche Mode - A Question of Time
The Virgin Prunes - Caucasian Walk
Spiritual Front - No Kisses on the Mouth
Skinny Puppy - I'mmortal
Requiem in White - Secret of Secrets
Qntal - Vos Attestor
Otto's Daughter - Devil's Paradise
Demonspeed - Hand of Glory
KMFDM - Today
Cocteau Twins - Pearly Dewdrops Drops
December 6th
In Gowan Ring - Montesinho Instrumental
Cocteau Twins - Beatrix
Hildegard von Bingen - O Eucari (Vision)
Bel Canto - Dewy Fields
Peter Murphy - Marlene Dietrich's Favorite Poem
Dead Can Dance - Tell Me About the Forest (You Once Called Home)
Faith and the Muse - Interlude: Annabelle
Love Spirals Downwards - Write in Water
Mors Syphilitica - My Virgin Widows
This Mortal Coil - You and Your Sister
Lycia - Down
Unto Ashes - I Cover You With Blood
In Gowan Ring - Montesinho Revisited
February 7th
Faith and the Muse - Arianrhod
Curse - Luna (Draw Her Down)
Christian Death - Burnt Offerings
Spiritual Front - Her Favorite Confidential Destroyer
Vas - The Reapers and the Flowers
XP8 - She Says
The Sisters of Mercy - Giving Ground
Rasputina - At The State Fair
The Birthday Party - Jennifer's Veil
Depeche Mode - Waiting for the Night
Bauhaus - God In An Alcove
Regina Spektor - Consequence of Sounds
The Smiths - I Won't Share You
February 28th
Strange Boutique - This Charm
The Shroud - Passion of Lovers
Bauhaus - Of Lilies and Remains
Mors Syphilitica - Galatea
Arcana _ Angel of Sorrow
Bel Canto - A Shoulder to the Wheel
The Brides - Dial M
Audra - In All Our Androgyny
P.D.Q. Bach - March of the Cute Little Wood Sprites
Gene Loves Jezebel - Desire
Dichroic Mirror - Arrival
13 Candles - What Is Death
Corvus Corax - Mille Anni Passi Sunt
Nicki Jaine - Amsterdam
March 21st
The Order of the NCS - The Consumption of Sin
Blood Axis - Between Birds of Prey
Qntal - Vedes Amigo
The Order of the NCS - Donum
Werkraum - Wir Rufen Deine Wolfe
Death In June - The Giddy Edge of Light
Einstürzende Neubaten - Der Weg Ins Freie
Faith and the Muse - In the Amber Room
Unto Ashes - Persephone, Queen of the Underworld
Die Form - Cantique 1
Depeche Mode - Only When I Lose Myself
March 28th
Unto Ashes - You Say You're Happy Now
Freya Aswynn - Wotan
Foresta di Ferro - Oak Leaf
Derniere Volonté - Vienna
Mephisto Waltz - Age of Nothing
Der Blutharsch - Time Is Thee Enemy IV
Blood Axis - Reign I Forever
Prokofiev - Romeo And Juliet Suite No. 2: Montagues and Capulets
Dream Into Dust - How the Roses Burned
Garmarna - Viridissima Virga (Greenest Branch)
Hagalaz' Runedance - Volven
Hungry Lucy - Alfred
April 4th
Siouxsie and the Banshees - Cities in Dust
In Gowan Ring - Rosehip November
Folk Fiction - Tonight
Black Tape for a Blue Girl - The Broken Glass
Zoar - Wakeworld
Christian Death - The Luxury of Tears
Corvus Corax - Mille Anni Passi Sunt
Dead Can Dance - Cantara
Tones on Tail - Burning Skies
Joy Division - Heart and Soul
Dolkaren - The Stabber
Nordafjolls - The North Mountains
The Sisterhood - Giving Ground
April 18th
Qntal - Trobar Clus
The Glove - Mr. Alphabet Says
Frou Frou - Maddening Shroud
Faith and the Muse - Failure to Thrive
Edera - Good Things
Derniere Volonté - Les Orages Du Crime
Unto Ashes - Serve Me (Ochun Mix)
Nick Cave and the Bad Seeds - People Ain't No Good