World War II Poetry
Poetry Written
in the Japanese Internment Camps in the United States
and
in the Ghettos and Concentration Camps in Europe
A Web Page by Sorelle Friedler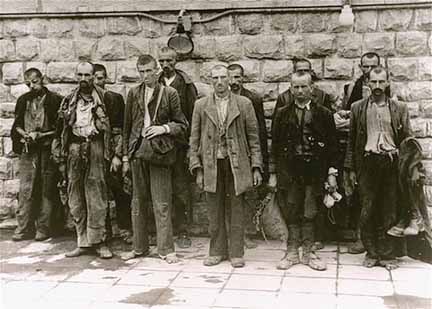 Mauthausen - The Wailing Wall
New arrivals at the "Klagemauer" (wailing wall) after a week long trip in open railway cars.
Date: 1943-1944
Photo credit: National Archives, USHMM Photo Archives
Table of Contents 
Poetry written by children in the concentration camps and ghettos of Europe:
At Terezín1
 
When a new child comes
Everything seems strange to him.
What, on the ground I have to lie?
Eat black potatoes? No! Not I!
I've got to stay? It's dirty here!
The floor- why, look, it's dirt, I fear!
And I'm supposed to sleep on it?
I'll get all dirty!
 
Here the sound of shouting, cries,
And oh, so many flies.
Everyone knows flies carry disease.
Oooh, something bit me! Wasn't that a bedbug?
Here in Terezín, life is hell
And when I'll go home again, I can't yet tell.
 
"Teddy"
1943
Written in Terezín Concentration Camp
Birdsong2
He doesn't know the world at all
Who stays in his nest and doesn't go out.
He doesn't know what birds know best
Nor what I want to sing about,
That the world is full of loveliness.
 
When dewdrops sparkle in the grass
And earth's aflood with morning light,
A blackbird sings upon a bush
To greet the dawning after night.
Then I know how fine it is to live.
 
Hey, try to open up your heart
To beauty; go to the woods someday
And weave a wreath of memory there.
Then if tears obscure your way
You'll know how wonderful it is
To be alive.
 
Anonymous Child
Written in Terezin Concentration Camp
On a Sunny Evening 3
On a purple, sun-shot evening
Under wide-flowering chestnut trees
Upon the threshold full of dust
Yesterday, today, the days are all like these.
 
Trees flower forth in beauty,
Lovely too their very wood all gnarled and old
That I am half afraid to peer
Into their crowns of green and gold.
 
The sun has made a veil of gold
So lovely that my body aches.
Above, the heavens shriek with blue
Convinced I've smiled by some mistake.
The world's abloom and seems to smile.
I want to fly but where, how high?
If in barbed wire, things can bloom
Why couldn't I? I will not die!
 
Anonymous Children
Written in Terezin Concentration Camp
Poetry written by adults in the concentration camps and ghettos of Europe:
 
5.8.1942
In Memory of Janusz Korczak4

What did the Old Doctor do
in the cattle wagon
bound for Treblinka on the fifth of August
over the few hours of the bloodstream
over the dirty river of time
 
I do not know
 
what did Charon of his own free will
the ferryman without an oar do
did he give out to the children
what remained of gasping breath
and leave for himself
only frost down the spine
 
I do not know
 
did he lie to them for instance
in small
numbing doses
groom the sweaty little heads
for the scurrying lice of fear
 
I do not know
 
yet for all that yet later yet here
in Treblinka
all their terror all the tears
were against him
 
oh it was only now
just so many minutes say a lifetime
whether a little or a lot
I was not there I do not know
 
suddenly the Old Doctor saw
the children had grown
as old as he was
older and older
that was how fast they had to go grey as ash
 
Jerzy Ficowski
(translated by Keith Bosley)
The Butterfly5 
He was the last. Truly the last.
Such yellowness was bitter and blinding
Like the sun's tear shattered on stone.
That was his true colour.
And how easily he climbed, and how high,
Certainly, climbing, he wanted
To kiss the last of my world.
 
I have been here for seven weeks,
'Ghettoized'.
Who loved me have found me,
Daisies call to me,
And the branches also of the white chestnut in the yard.
But I haven't seen a butterfly here.
That last one was the last one.
There are no butterflies, here, in the ghetto.
 
Pavel Friedmann
Terezín Concentration Camp, 4 June 1942
Poetry written by children in the Japanese internment camps:
Be Like the Cactus6  
Let not harsh tongues, that wag
in vain,
Discourage you. In spite of
pain,
Be like the cactus, which through
rain,
And storm, and thunder, can
remain.
 
Kimii Nagata
 
The Desert is my Home7
 
The desert is my home;
I love its sun and sands,
I love its vastness, century's sleep;
It challenges, commands!
 
At night the cold stars crystallize,
Opalescent, free;
I exult in their ageless eyes,
Their silence envelops me.
 
This desert is my home,
This, the open plains
And endless sage beneath hot suns,
The sky and sudden rains.
 
From golden dawn to red sunset,
The desert beckons, calls- -
I love its freedom wilderness,
Unlimited by walls.
 
And this will be my home;
The desert sands I'll plod,
Far out beneath its skies and stars,
To be alone with God.
 
Tokiko Inouye
 
 The World8
 
Who dares to say the world is
filled
With putrid smells of hell to
come,
The world shall hate, shall
crush, ---
We live, we die, and all is
done?
 
The Light of the World shall
never cease
To those with heart and
will;
The Life of Love will give us
peace
At last when all is
still.
 
Jessica Hoshino
 
My Plea9
 
Oh God, I pray that I may bear a cross 
To set my people free,
That I may help to take good-will across
An understanding sea.

Oh, God, I pray that someday every race
May stand on equal plane
And prejudice will find no dwelling place
In a peace that all may gain.
 
Mary Matsuzawa
 Faith10
 
My heart is proud,
My soul is glorious and free.
You, young Nisei, are fighting for
our lives, our country, future,
and everything we stand for.
 
We are right behind you.
You are proving that we are loyal
in Italy and wherever you go.
You will come back victorious and free,
and we will be waiting for you
in this land of liberty.
 
Yukio Ota
   
Poetry written by adults in the Japanese internment camps:
Barracks Home11
This is our barracks, squatting on the ground,
Tar papered shacks, partitioned into rooms
By sheetrock walls, transmitting every sound
Of neighbor's gossip or the sweep of brooms
The open door welcomes the refugees,
And now at least there is no need to roam
Afar: here space enlarges memories
Beyond the bounds of camp and this new home.
The floor is carpeted with dust, wind-borne
Dry alkalai, patterned with insect feet,
What peace can such a place as this impart?
We can but sense, bewildered and forlorn,
That time, disrupted by the war from neat
Routines, must now adjust within the heart.
 
Tojo Suyemoto Kawakami
 
Tapaz, Utah12
 
The desert must have claimed its own
Now that the wayfarers are gone,
And silence has replaced voices
Except for intermittent noises,
Like windy footsteps through the dust,
Or gliding of a snake that must
Escape the sun or sage rustling,
Or soft brush or a quickened wrong
Against the air, -Stillness is change
For this abandoned place, where strange
and foreign tongues had routed peace
Until the refugee's release
Restored calm to the wilderness,
And prairie dogs no longer fear
When shadows shift and disappear
The crows fly straight through setting dusk,
The desert like an empty husk
Holding the small swift sounds that run
To cover when the day is done.
 
Tojo Suyemoto Kawakami
 
 Camp Memories13

I have dredged up
Hard fragments lost
I thought in years
Of whirlwind dust.
 
Exposed to light,
Silently rough
And broken shards
Confront belief.
 
Tojo Suyemoto Kawakami
 
Footnotes
1 Volavková, Hana (Editor), I never saw another butterfly., Schocken Books, 1978, p 54.
2 Ibid, p 53.
3 Ibid, p 10.
4 Schiff, Hilda (Editor), Holocaust Poetry, St. Martin's, 1995, p 62.
5 Volavková, Hana (Editor), I never saw another butterfly., Schocken Books, 1978, p 33.

Even though Pavel Friedmann wrote this when he was 21 and by age would be considered an adult, his poem is unusal for a poem written by an adult and fits better in the category for children. (Volavková 77)

6 Downing, Ferne (Editor), Cactus Blossoms. Pasadena, California: b s.n.,1945?
7 Ibid.
8 Ibid.
9 Ibid.
10 Ibid.
11 Daniels, Roger, Sandra L. Taylor, and Harry H. L. Kitano. (Editors), Japanese Americans: From Relocation to Redress, University of Washington Press, 1986, p 28.
12 Ibid, p 29-30.
13 Ibid, p 30.