This is my art. Some people may think that it doesn't quite qualify as art in the traditional sense, but it means a lot to me.

Growing up, coloring books always frustrated me. They were almost always of very earthly sorts of things, things which did not look good the way I wanted to color. I wanted fields of color, bold blocks of screaming red, intense blues, blazing yellows. But all confined to spaces.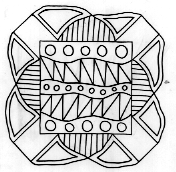 The separation was important. I was always a compartmentalizer (is that even a word?).

My senior year in art, I created a coloring book as a project for independent art. These are a few of my drawings from that book. They are in black and white, but are meant to be colored brilliantly.

I have read several things over the years about what coloring books do to children.
Some people think that they just destroy a childs creativity. Maybe. But I find it comforting to fill in the spaces with hues of my choosing; it is something I do at school when the work gets to be just too much. And that happens a lot around here. Read Justin Halls comments about that. Whether or not you agree, it will get you thinking. And that is worth thinking about, though I guess that this is not the place to be expounding about it. So when I get my thoughts together, that will be another page.
send me mail return to homepage