This article was published in the September 6, 1996 edition of The Phoenix.
It was researched by Dave Mimno and Elizabeth Weber, and written by Dave Mimno .
Overcrowding as a Swarthmore Tradition
---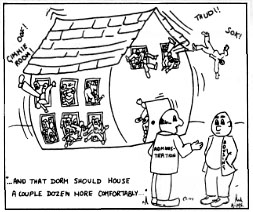 This cartoon originally ran on the editorial page of the 2/20/81 issue of The Phoenix
It is painfully obvious to even the casual observer that Swarthmore College is overcrowded. With to of the largest classes in school history, this year's seniors and freshmen, here at the same time, classes are crowded, the CRC is a rapidly fading memory, and Dana and Hallowell must make due with a port-a-lounge. As a resident of Mary Lyons basement myself, I am very familiar with some of the college's more marginal housing. Overcrowing, however, seems to be something of a tradition at Swarthmore.
The most severe overcrowding occurred shortly after World Was II. Large numbers of students returned from military service, and were joined by others taking advantage of the G. I. bill. Most of the current Parrish single rooms contained bunk beds and were being used as doubles. Preliminary plans for a new dorm were drawn up in 1946, but by the time it was actually built, 12 years later, it had transformed from something closely resembling Worth into the "contemporary" building we now know as Willets. The space shortage had been eased somewhat by the purchase of the Mary Lyons School buildings.
Meanwhile, many students felt that enrollment should be reduced. The problem was still evident in late 1949, when The Phoenixcommented that "The very pressing difficulties related to the physical plant would be greatly improved. Smaller enrollment would relieve the crowded and generally unsatisfactory conditions of the dormitories, lab and libraries. It would enable the college to get rid of Mary Lyon, whose high overhead and difficult of supervision has caused dissatisfaction on some sides. Reduced enrollment might also be a step toward providing decent food."
The college was once again overcrowded in the early 80s, shortly before the completion of Mertz Dorm. Paul A Carnahan '81 wrote in a letter to The Phoenix, "Overcrowding affects the lives of all students, not just students who live in dorms and eat at Sharples. Although educational quality is not necessarily inversely related to class size, enrollment is a significant educational factor at a school which was set up around small classes." Need for a new dorm had been recognized in the early 70s, but it took another ten years before Mertz opened to students.
The class of '88, though smaller than the classes of '97 and '00, was unusually large for its time. There was, as, now, much griping among upper classfolk. Haleh Bakhash wrote in a September 1984 Phoenix article, "You guys caused a few problems. First, there was a cutback in the number of transfer students. Second, new course sections have been added so that you can all take the classes you have dreamt about all summer Finally, Pittenger has been reopened, after remaining unoccupied for the past few years."
Most recently, the class of '97 strained Swarthmore to capacity. According to the September 3, 1993 Phoenix "Assistant Dean Tedd Goundie indicated that all the lounge and basement room--remained 'lower level'--are now occupied. Simply put, there is no more space."
The current overcrowding should be greatly reduced next year, when the class of '97 graduates. Until then, we will have to deal with lotteried classes, scarce silverware, and Grade D housing.
Note: There is a great photo of Hall Gym being used as overflow housing in the fall 1946 Phoenix.
---
Return to top of page
Return to the index of articles
Return to the Friends' Library College Archives Project page