AKA &nbsp H E L L E B O R E
---
"I've got gypsy-feet"
-- Jennifer Sieracki, www.militarybrats.com
winter, junior year
When I was a college freshman, the first thing everyone asks you is: "So, where are you from?"
It always stumps me.
"Ummm...at what point in my life?"
Welcome to the life of a Navy brat....
---
The name on all the ID cards is Jennifer Elizabeth Tyson. If you saw the photo on my military ID, you'd know where part of my mutt-like heritage lies: I look like a Nazi. My great-grandparents were Transylvanian, you know.
My friends call me Yen, gummi bear gnome, Jenny-fur, Jenny-fair, Jiffiner, Jiffner, and, last but certainly not least, Hellebore. Stinking Hellebore. It's a plant. Honest.
---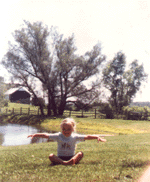 me, 1981

Does she have a past? you wonder. I wonder it myself sometimes. I was born in Norfolk, VA; we lived there for 14 years, a strange circumstance for a Navy family. Dad traded not moving for lots and lots of sea duty. In 1992, we moved across the continent to San Diego, hovered there for 11 months, then hiked ourselves back across the continent to Washington, D.C. Springfield, VA, to be exact. Nice place, it was: I finished off high school there, at good old Lee H.S., the "ghetto school" of Fairfax County. Well, that's what everyone else called it. It wasn't at all. It allowed me to get here, didn't it?

It was defintely time to uproot again, and this time it was even a greater leap than a continent: Dad received command of Naval Air Station Sigonella, Sicily, Italy. Let's just say it's a really, really long flight. Espcially when it's a military flight.

I went with them, much to their relief, I think. 5000 miles between them and their daughter just starting college?? Besides, I said, there was no way on earth I was going to pass up the chance to live in bella Sicilia. It's a gorgeous place. And there's certain charm to living in the shadow of an active volcano.... When I was faced with leaving it the summer before my freshman year at Swarthmore College, I discovered that I had a certain soft spot for this sunny island.
---
So in August of 1997, I said my farewells and flew back to the States, to here, Swarthmore College. I missed the island, but Pennsylania is practically a second home to me, as my grandparents live nearby. And Swarthmore grows on you: I could never imagine going anywhere else.
---
How can she stand all that moving around? you ask. Frankly, it's not much by military standards; the typical military family moves as often as every year or two. Three or more years in one location at the same job is highly unusual.
So you get used to it. You learn. I would never be the same person I am if it weren't for what my father does. One big benefit is all the travelling I got to do! And currently my father is stationed at the U.S Mission to NATO in Brussels, Belgium.
You know the axiom "Home is where the heart is"? Well, that's me. My home isn't in the stuff I carry around or the house I live in or the neighbors that surround me. I carry the essentials of home in my head.
Bienvenue a Belgique, 1999
---
Last updated 20 March 2000
Back to Tempus edax rerum