A L L &nbsp A B O A R D !
Draw up the gangplank and weigh anchor!
Ho! Trim the starboard sail!
Navigator, set course: Second star to the right
And straight on till morning....

-- Jennifer Tyson, "Je T'Invite"
In my year overseas, I wrote a number of articles about the places I travelled to. They are largely about Sicily, but there are a few random others. Please respect the ownership, and give credit where credit is due! Thanks, and enjoy your ramblings. I hope my words encourage your own adventures.

Articles about Sicily

BELLA SICILIA: Persephone's Island

A Sicilian tradition: I PUPI (The Puppets)

A Sicilian tradition: RICOTTA
Elsewhere....
FLORENCE, ITALY
Corner of the Old Post Office, Brugge, Belgium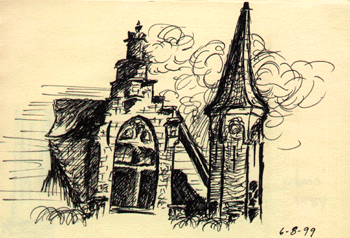 ---
Questions? Comments? Email me at jet@sccs.swarthmore.edu

Jennifer Tyson '01
Swarthmore College
500 College Ave
Swarthmore PA 19081