1.31.02 : home-made sweet potato gnocchi in gorgonzola sauce, spicy pancetta and wilted spinach

1.28.02 : pasta and white bean soup

1.25.02 : bbq chicken, baked beans, spinach salad

1.23.02 : wayne's milkshake (4-5 scoops french vanilla, 2 big spoonfuls of hershey's chocolate, few glugs kahlua, few glugs milk, all in a blender)

1.22.02 : fettuccine in spinach-pancetta sauce a la romana, gruyere-honey bruschetta

1.21.02 : fusion caramelized onions on farfalle (sherry, lime, ginger), gratin dauphinois

food coma II: border cafe (mexican food and margaritas), redbones (ribs with ribs on the side), emporer's garden (dim sum), tealuxe (tea), sushi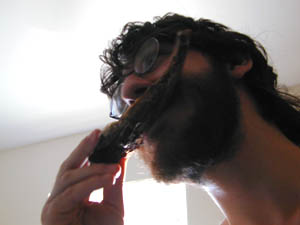 1.17.02 : tilapia in light orange sauce, baked sweet potato fries with ancho mayonnaise, broccoli, alsatian white wine
tilapia in light orange sauce

4-5 fillets of tilapia (a somewhat fishy white fish), juice of 4 really juicy oranges (honeybells), about 1/4 stick of butter total, salt, pepper, white wine

start by marinating the fish in the orange juice for about 15-30 minutes. when you can't stand it any longer, pour off about 3/4 of the juice into another pan and begin to reduce, adding in about half a glass of white wine. in the fish pan, pouch the fish in the remaining orange juice for about 3-5 minutes. try to drain the rest of the juice into the sauce pan, and add a few pats of butter to the fish to sautee. when the fish are done and the sauce is reduced, add a large pat of butter to the sauce, mix it in, then serve.
1.16.02 : chinese takeout to celebrate the coming of the nintendo 64 ;)

1.15.02 : out-of-control five-red-spice tacos, peach-ginger salsa

1.10.02 : tortellini in tomato-pancetta sauce with parmesan rinds

1.09.02 : all-the-veggies-in-the-fridge pasta with sausage
broccoli-fennel-squash pasta

a medium onion, a clove of garlic, a head of broccoli, half a large bulb of fennel, half a yellow squash, about half a large can of peeled tomatoes and most of the additional juices, oregano, thyme, salt and pepper, dry sherry, fettuccine

wayne called home saying he wanted veggies. this is what happened. first boils some salted water and toss in the cut-up broccoli, boil for about five minutes, then drain and set aside. slice onion into strips and sautee in a decent-sized pan that has a lid (don't use it now, tho). when the onions are almost translucent, add minced garlic and sliced-up squash, and stir for a minute. take the fennel (ours was cut in a cross-section) and cut into strips and add to pan, then add tomatoes and juices, as well as herbs, and then simmer covered while you work on something else (like starting the pasta water). after about ten minutes, check on the sauce, and remove lid if the veggies are getting tender (or if the sauce is too wet). add broccoli to the sauce at the same time as you put the pasta in the water, and cover the sauce pan. when the pasta is almost ready, take it out of the water and put it into the sauce pan to finish the cooking. also add a glug of sherry into the pan (you'll like it). serve with some fresh parsley. enough for 2-3.
1.08.02 : mom's chicken and bean stew thing, bruschetta with caramelized leeks and goat cheese, snow peas in lime-ginger sauce

1.07.02 : roasted chicken, cornbread and sausage stuffing, mashed potatoes

1.06.02 : blackened catfish, black beans with pancetta, baked paraguayan tortilla
blackened catfish

fillets of catfish, vegetable oil, paprika, thyme, ground black pepper, cayenne, salt

our apartment was completely filled with smoke. it was awesome. do this outside if you can. mix the seasoning together on a plate, drizzle a little vegetable oil on the fish, cover well on both sides with seasoning, and drop onto really really hot cast iron skillet. then stand back. ideally, sear them for 2 minutes on a side, depending on the thickness of the fillet.
1.03.02 : rotini in creamy scallop sauce, garlic bread, salad with dijon vinaigrette

december | february