2.27.02 : tortellini in spicy broth, atomic salad dressing

2.26.02 : steak sandwiches, fried fennel with creme fraiche sdipping sauce, mixed greens salad with home-made basil oil

2.25.02 : basil-lemon chicken, potato gratin with gruyere and cream fraiche, mixed greens salad with dijon vinaigrette, garlic bread, mersault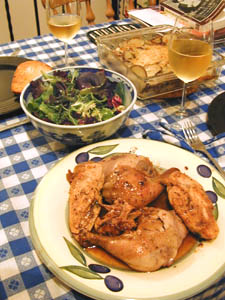 2.24.02 : brunch - baked paraguayan tortilla, cuban black beans
the froofy-est paraguayan tortilla you'll ever see

2 T butter, 2 eggs and 4 egg whites, 3/4 cup milk, 1/4 whiskey, splash of cream, 1 1/2 cups flour, hunks of cheese (gruyere, chevre, and parmesan), one tomato cut into pieces, a healthy dose of thyme, some red pepper flakes, salt and pepper

start by heating a cast iron skillet on the burner with butter. mix the eggs, flour, milk, cream, and whiskey, then add in the goodies. before the butter burns, add the batter to the pan and coook on the burner for about a minute, then move to oven. bake 425 until doesn't look goopey and has risen quite a bit (maybe 7-10 minutes), then broil for a minute. it will come out almost souflee-like, and on ours, somehow all the herbs came to the top.
2.23.02 : breakfast - sherry-pesto omelettes with ricotta and spinach (and sausage); dinner - portabella mushroom sandwiches with chevre, frites, green beans in garlic-basil butter

2.18.02 : "pace's hummus" (from silver palate), whatever-soup with croutons, rioja
bunch-o-stuff soup

home-made chicken broth, chicken meat from the broth (about a pound), leftover fennel bulb, small portabella mushrooms, some bacon, a few cloves of garlic, a can of cannelini beans, a good deal of kale, parmesan rinds salt and pepper

start by cooking the bacon, slicing, and placing in a large soup pot. slice and sautee the fennel, chicken (mostly cooked from broth-making), portabellas, and garlic in the pot in a bit of olive oil. cover with broth and bring to a boil. add parm rind (cut into smallish pieces - they soften easier), and after a minute or two, add chopped kale. simmer about 5 minutes or until kale is soft, then season with salt and pepper. top with croutons and olive oil. kale and mushrooms go surprisingly well together, and this soup is full of texture... maybe even, evil texture...
2.11.02 : beer-poached bratwurst, pierogies in sour cream-mustard sauce, spinach in dijon vinaigrette

2.10.02 : breakfast: sherry french toast (hehe)

2.09.02 : breakfast: fried egg over marinated chevre on toast, lunch: tomato-pesto cous cous, dinner: pancetta-broccolini pasta soup

2.08.02 : chris eats alone: bratwurst, honeyed carrots, sauteed broccolini

2.07.02 : pot-luck with ben: red lentil stew, bell peppers stuffed with mushrooms and gorgonzola

2.06.02 : take-out calzone

2.05.02 : kielbasa with roasted onions and portabellas, butternut squash puree, german beer

2.04.02 : farmhouse "burracho" tortilla, wilted swiss chard
farmhouse "burracho" tortilla

half a medium onion, two baking potatoes, some spiced pancetta, a spicy meat (we used leftover "spanish fly" hot wings from monk's... high "blahoo-ahh" factor... they melt your face off), two slices ham, two slices swiss cheese, grated parmesan, 6 eggs, a glug of sherry, salt and pepper

our version of a spanish tortilla: start by cutting the onion into long slices, sautee them, and set aside. cut potatoes into thin-ish slices (as thin as you can get with a knife... about 1/4-1/8 inch) and brown on both sides in olive oil and season with salt and pepper, and set aside. crisp up the pancetta in the pan that you will use to construct the tortilla (a large cast iron), then remove pancetta and drain excess oil. place in this pan the potatoes, meats, onions, then lay on ham and swiss. in a bowl mix up eggs, sherry, salt, and pepper, and pour into pan around other goodies. grate parm over this, and start cooking on the stovetop for about 3-4 minutes. when the egg around the sides start to look cooked, place it in a 350 degree oven until rest of egg is cooked, then broil to brown the top. serves 2 with leftovers.
2.02-03.02 : "food epidemic" - breakfast: buttermilk pancakes, snack: roasted tomatillo salsa, dinner: monk's belgian restaurant (16th&spruce, philly), brunch: standard tap (north of 2nd&brown st., philly), dinner: farfalle in pesto and pancetta
farfalle in pesto and pancetta

a handfull of cubed pancetta, 1/2 c white wine, 1/2 c home-made chicken broth, 2/3 c home-made pesto, 1 T cream, farfalle for four

the pancetta we used was from the italian market in philly, and it had a spiciness to it that woke this up a bit. to be able to cube pancetta, get it in a large hunk from the butcher, don't let the dude slice it. so, brown the pancetta, and when it is almost done, remove from pan and drain oil. replace in pan and add wine and broth. reduce about half, then add pesto and cream. stir, add farfalle when pasta is just about done, and serve with grated parmesan.
2.01.02 : chicken saltimboca, home-made sweet potato gnocchi in home-made pesto, sauteed spinach

january | march