My Season with the Clyde Beatty Cole Bros. Circus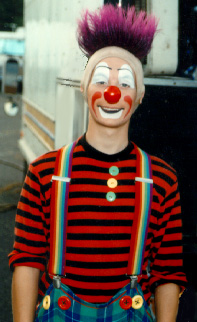 Hi, I'm John. This page is an attempted photo-documentary of the five months I spent travelling with the Clyde Beatty Cole Brothers Circus. For those of you who haven't heard of them, CBCB is the east coast's largest travelling tented circus. It's basically your typical circus full of elephants, lions, acrobats, and yes, of course, clowns.
In April of 1994, a senior in high school, I auditioned for Ringling Bros. Barnum and Bailey Clown College on a whim...and got in! Clown College is, as advertised, the biggest playground on earth. The thirty clowns-to-be in my Clown College Class learned circus skills (juggling, mime, improvisation, stilt-walking) as well as prop making and circus history. This is what I looked like after Clown College. After two of the most exciting months of my life I returned home to Washington DC and spent a few months working at The Juggling Capitol. And then again, on a whim, sent a letter to Jimmy James, the ringmaster of CBCB asking about clowning positions, and was offered a job!
Once there, I was fortunate enough to run into two of my Clown College Classmates Brandon Magnuson and Gideon Sanders. The three of us joined Tim and Gigi Tegge, Brian and Lori Dwyer, Chris "Smiley" Bayer and Andrew "Maestro" Torres, the CBCB Clown Alley.
My disparate attempts to reconcile the experiences I had into some useful form have resulted in the ever-dynamic series of poems here titled circ&c. please enjoy.