Valerie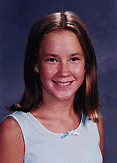 About Val
Val is an 8th grader at Stanley Intermediate School. She likes to play afterschool softball and track. In the summer she Swims for the Larkey Sharks. In her free time, Val likes to hang out with her friends, party, go to the movies or go shopping.

This is Val going,

"STARFISH!"

Here you can see a picture of Val's latest work using stained glass.
It is a frog she made for a friend's birthday.

---