Jen (Gotham) and I were "The Demented Children" again at work today. Or maybe it's deranged. I forget. Anyway, this is Shye's nickname for us. We were picking on Shye, making fun of her finger-shaking, and generally having a fine time while working. It was generally good.
Got paid today, happiness, which probably means money toward the pipes. Yay.
Speaking of which, I think I've decided to get them. Scrap the idea of getting a laptop--pipes are cheaper, last longer, and are probably ultimately more useful to me. Yay decisions made. Now I just need to pick maker, model, mountings, material, and probably something else starting with m, too. I'm currently leaning toward Jack Dunbar polypenco P2 pipes, half-mounted with imitation ivory and half with nickel. Cool.
The mosquitos need to die. All of them.
Wilda Sutliffe came by and chatted with us after the church community supper thingy this evening. It was cool, and at the supper, I saw Brooke Robinson. Friend from high school who graduates tomorrow and invited me to her party on Saturday. Yay social life. I'm going to try to go, I think.
Strathmore paper sent me a buttload of paper today. For free, no less--samples. It's cool. Also, I seem to have won my auction on eBay for a really neat copy of Tolkien's Silmarillion--an edition I've been hunting for about nine years.
Gotta get up early tomorrow morning, so I'm out. Bye.
---
June 21, 2000
I'm being lame and not writing much. Again. Ah well
Lots of cool stuff has been happening--elaboration may follow in the future. We'll just have to see, won't we.
The room is coming along really well--I have floor, and shelves, and books on the shelves, and stuff. It's very neat. Probably going to paint the walls and stuff eventually, but not quite yet. Meanwhile, I actually have nice space that I choose to inhabit at times other than sleeping.
Mom brought inks back from NYC--green, purple, and South Seas Blue, which is sort of a turquoise-y color. Beautiful inks. Thanks, mom.
I've been writing letters to people. Slowly, behind schedule, but at least I've begun. It's good thing*.
Bagpiping on Tuesday--I drove to Brockville, Ontario, for my lessons. Lots of fun. Upshot: Brian (my instructor) says I'm ready to look for pipes if I want to. Yay.
Short one today because I'm lame and want to write letter(s). Bye.
*: Evidently "It's a good thing" or something similar is the pet phrase of one Martha Stewart. I use it all the time, without knowing the origin, but Shye felt the need to comment and giggle at me. Hrmph.
---
June 18, 2000
Ugh. Short journal tonight as well, because I'm damn tired.
Exhausted might be more like it. Driving around, hauling heavy stuff, carrying more heavy stuff, putting the heavy stuff together, moving the (now bulky) heavy stuff, cleaning, etc. Dealing with the dumbass Border Patrol moron.
My room is cooler (as in more nice) now than it was, though. New dresser, sofabed, and bedside table do a lot for that. I cleaned out one of my crawlspaces and started stuffing things into it today. One of the others may get done tomorrow before my dentist appointment. I keep plotting to get more bookshelf space in my room. Oh, and (unrelated thought) I now know where my rifle and its ammunition and relevant accoutrements are to be found. They are, gentle reader, not in the same place. This is good.
The raccoon's been taking down the birdfeeder during the night. We dutifully (where we = Dad) put it back up every morning. I've been trying to think of non-lethal ways to deter the raccoon. I threw water at it last night--hit it in the face with about 4 gallons, then again with about a quart, and it just sat and looked at me from the tree it ran to. My next brainstorm might be to shoot at it with my rubber band gun. This will mean the raccoon gets to laugh at me as I climb through the tree trying to get my rubber bands out of the foliage. Right.
Though I enjoyed The Elements of Style, I have decided after a few dozen pages that Margaret Shertzer's Elements of Grammar is not something I want to deal with right now. Partly it's that it was published in 1950, and I found errors within the first two pages. Partly I just didn't like the book.
I'm being horrible about writing letters to people, but making up for it by responding to email with deluges of text. Pages and pages of responses. Hrm.
I made linguini with cheeses this evening--Dad was at a church choir thing in Canada, and Mom's in NYC taking Yevgeny to his airplane and such. It was okay, but not great. Disappointing might be the word. Ah well--it took five minutes and was easy.
My hunt for stationery continues. Yahoo failed to find anything I liked. A pity. Mom's going to hunt for it while traipsing about NYC, as well as various books from The Strand (bigass used bookstore, for those not in the know.) Also more colored bottle inks--hopefully green or turquoise or purple or other lovely colors.
Right, a short one. I'm going to bed. Wish me luck with my drilling of teeth tomorrow.
---
June 16, 2000
Today has been pretty good, really. It's been unpleasantly hot, but that's just a comfort thing. I got to take Yevgeny to the Saint Lawrence University bookstore today.
I hunted and ultimately failed to find any stationery that I deemed worth writing on--everything they had was either kitschy beyond measure or just ugly. Also incredibly expensive.
All was not lost, however, as I did manage to find two bottles of ink: made by Waterman in black and Florida blue. This will be good, as it means I can use my Lamy fountain pen again. Yay.
Dad and I are driving up to Canadia tomorrow. In Canadia we will head either north or northeast, bound for Ottawa or Montréal. The current plan points us toward Québec. We're going to IKEA for the purchase of furniture. Bed, dresser, possibly bedside table thingetything. I'm trying to fight down the fear of change by telling myself that this is a good thing, and reminding myself that it really would be a nice thing to have a place to put my clothing. One that I'm not allergic to. Yippee.
Sesame chicken from the Chinese takeaway today for lunch at the office; dinner was old favorites from Madhur Jaffrey's Invitation to Indian Cooking, with one minor change. We made Maya's potatoes, which are lovely spicy potatoes; also kheema with fried onions, which we made with textured vegetable protein instead of the usual beef. I wanted to try it that way, and was pleased to find that it works quite nicely. The flavor is somewhat different, but is very much a pleasing one. Also leftover risotto with spinach and parmesan (which I didn't get to eat, more's the pity), salad, etc. It was a Good Thing.
After dinner, Dad and Yevgeny and I went into the backyard and had a campfire. There's something that's just really good about a few people and a fire sitting around, talking, and watching it get dark. I suppose the cliché would be for it to be us watching the stars come out*; however, there's a storm coming in tomorrow, so we got to watch clouds coming in instead.
Ever wonder why there are certain words that apply only to one specific situation? For example, the verb skirl. Actually, this is a bad example, as there are two situations: bagpipes skirling, and someone's voice skirling upwards with incredulity. Another one is clouds scudding by. Weird stuff, man.
Another weird word thingy--why is it that we, an possession-driven society, seem to change the ownership of objects so flippantly? For example, at Kyla's house, the bed I slept in was referred to as "my (Hollis's) bed". I'm thinking the reason for this is that it provides a convenient method of distinction between the several beds belonging to Kyla's family. However, taken to (late night) extremes, this gives me ownership of things ranging from cars to countries. Weirdness.
There's a new treatment out there that makes you immune to cocaine. You can read about it here. It reminds me a little bit too much for comfort of some of the things in Neuromancer. Hrm.
It's hot. Damn hot. Whatever the quote from Good Morning Vietnam is. You got a window? Open it!
*: Official Management Termesque styling borrowed from The Tough Guide to Fantasyland, by Diana Wynne Jones
---
June 15, 2000
Quick entry tonight, because it's 1:40 am and I'm tired.
I went to the Eagle Scout dinner thingatything tonight. It was... idiosyncratic. I felt rather odd. Only three of the Eagles who were being honored showed up, and that was kind of strange. Then, we had to do a flag ceremony, only nobody would volunteer to help. Eventually the other two volunteered me--fine, I just didn't want to step on toes by doing it. It was just odd.
Lots of awards to people I don't really know very well any more. Decent (free) dinner, though, and it was nice to see some old friends, like Chris, Eric, and Chris #2, as well as young master Saidel.
Since coming home I've been doing random research on the web while sitting about at loose ends--first finding out information about the death penalty, then about cleaning rifles, now about building campfires. Weird and funky stuff, but that's okay. Laurel wants me to go review stuff on her site. Maybe later.
I'm still sorting out how I feel about life here. It's a complex process, rather. In the meanwhile, I think I need to sleep. G'night.
---
June 14, 2000
I was marginally productive today: wrote my SWAPA zine, and sent it to Melissa. So that's good, at least.
My drive to clean my room seems largely to have disappeared, and I don't entirely understand why. I don't get it. Oh well.
We removed the Life Scout badge from my scout uniform today--Eagle Scout dinner tomorrow, and it is a Bad Thing(tm) to be in improper uniform. Yeah. Well, my Eagle award kit didn't include the uniform knot, so I'm going without rank insignia. I'm also wearing a few items of inappropriate insignia as a policy choice--my own little snipe at the Scouting organization, if you will. Ugh. Maybe they'll remove their blinders someday and realize that homosexuals are not a bad thing. It is the hope of changing the organization from the inside that has kept me from resigning my rank in protest of their actions. Grr.
Watched Mulan on my hotline shift tonight with Liz, another volunteer, and her sister, Britt. Good movie, if predictable in its Disney format. It was a thankfully light night on the phones--only 2 calls, in comparison with my 35 from last week.
Frustrating day at work--I've determined, again, that the Macintosh really just doesn't like Java, that Apple Computer has no intention of making MacOS compliant with the Java standard, and that its licensing restrictions mean nobody else will ever fix it for them. Grr. This is irritating because it wastes Reachout's money on the time I spent writing software that won't be able to work. Rararrrrrrrarrarararaaarr.
I want to get some decent stationery and ink for writing letters. Quaint though it is, I'm tired of doing all of it in my little green sketchbook. Also, ink of a color different from the standard blue and black would be greatly appreciated.
I think I'm done. G'night.
---
June 13, 2000
Today was going really well--Inherit The Wind with Bryan, bagpiping, seeing old friends at work.
However, it's sort of dampened by the email from Kyla saying she can't come visit. Consequently I don't feel much like writing at the moment.
---
June 12, 2000
... something only vaguely like a human face filled the screens, its features stretched across asymmetrical expanses of bone like some obscene Mercator projection. Blue lips parted wetly as the twisted, elongated jaw moved. Something, perhaps a hand, a thing like a reddish clump of gnarled roots, fumbled toward the camera, blurred, and vanished. Subliminally rapid images of contamination: graphics of the building's water supply system, gloved hands manipulating laboratory glassware, something tumbling down into darkness, a pale splash... -- William Gibson, Neuromancer
Splish splash, welcome to Potsdam. Today was pretty much non-exciting, in spite of a few interesting things. Somehow life around here can do that with astonishing regularity.
Got a package in the mail from Willa today, with a note and a pair of tapes: one that appears to be various selections of country music, and another that looks like Beach Boys stuff. Hunh. I'll have to listen to it sometime when there's a chance.
Also today were cooking excitements: ramen noodles for lunch, and then Moosewood Low-Fat Eggplant Parmesan for dinner. The former took five minutes. The latter took a bloody long time, if you ask me. The recipe claims it takes an hour and forty minutes (1 hour preparation, 35-40 minutes baking). This amuses me, given that the recipe calls for at least 65 minutes of oven time. However, my three hours of cooking were not a waste--really yummy food, and reportedly rather low-fat. This is a Good Thing.
Lots of bagpipe practice today in preparation for lessons tomorrow. I will face Brian, and I will show off how little I have played in the last eight months, and the assembled pipers will laugh, and then it will somehow all be okay again. I'm getting a ride up there with Dan and Kate Whalen, friends from last year. It'll be good to see them again.
I think one of the things that's been depressing me about being home is that Potsdam is forcing me back into my old introvert habits. Swatties are damn addictive, and are one of the only groups ever to get me out of my shell. Being home puts me right back into it, and that bugs me. I need to find some ways to be happy here. Hopefully piping will help with that, and also working once I finally get my butt in gear.
Finished Neuromancer today. Gotta remember to return library books tomorrow, or else I get to pay lovely happy late fees. I'm debating what to read next-- maybe Bond's A String In The Harp, or something. I don't know.
I got to talk to Kira today, yay, because she's at her aunt's house and has internet access for a bit. So that was several kinds of good. Also chatting with Chaos, and reading a letter Kyla sent me a long time ago. There's something nice about holding in your hands the letter someone else wrote for you. I still miss her a lot, but talking about it to friends has helped, and time will hopefully make parting easier, or at least bring us closer to the next meeting.
There are a hell of a lot of weird words out there. Did you know that collywobbles means bellyache? I didn't.
I feel the need for a random Poenis quotation, so I will write "Gratuitous your mom" right here.
I'm going to go see Bryan Herman tomorrow. Bryan's a friend from high school, one of the few in whose presence I don't feel uncomfortable. We did lots of theatre together in high school, and took our presentation of Inherit The Wind to the national tournament in speech and debate. We're going to hang out and watch the new made-for-TV movie of Lawrence and Lee's play. Man, I had fun with that. I hope it will be good.
---
June 11, 2000
the pilot says it's/warm and sunny in new york/the skies are crystal clear/ i'm descending from the west/you're descending from the east/please let this be our year/ i can't wait to see your face/hold your sweet body near/oh, it's warm and it's sunny/ in new york city/the skies are crystal clear/the future looks rosy/let's get cozy/ hey, stranger, over here. - Christine Lavin, "Yonder Blue"
I've returned from Boston, one Russian gentleman in tow. Yes, he's here, Mr. Yevgeny Volkov, of Nizhny-Novgorod. Seven hours of driving later, I still speak no Russian. Languages are damn irritating that way, sometimes.
I like Kyla. And her family. A lot. They are a Good Thing.
Newton at the Tornheim's was an interesting experience for me, very different from the one I had visiting there for NEFFA (New England Folk Festival). This time, we had the chance to sit and hang out. Sitting in a sunbeam reading while a loved one leans on my shoulder is among the finest experiences I have known.
We watched a bunch of things: the Star Trek: TNG episode where Geordi and Ro get killed, Singin' In The Rain, While You Were Sleeping, Sleepless In Seattle, Working Girl, and probably something else that I'm forgetting at the moment. I finished reading The Elements of Style, am working on Neuromancer, and enjoyed a number of different cookbooks, including one with a neat-looking recipe for ginger syrup (not unlike the fruit bases for diabolos, for those of you with European tastes). We made lots of neat things, like sweet potato and vegetable roti, sherbet, and fruit soup. Yum.
We saw lots of neat houses and kitchens in Newton as part of the home and kitchen tour that the elder Tornheims organized. There's a lot of money in Boston, and it shows. I once thought my house was huge; I've been forcibly disabused of the notion by observation of recent trends in housing. Gorgeous homes that must cost several million dollars--how do people afford them? The answers to these questions elude me. Sadly, they also inspire a few feelings of shame--my provincial backwater of Potsdam seems somewhat shabby by comparison, and the house I love seems diminished in the light shining from brand new kitchen fixtures in Boston. Overly melodramatic, perhaps, but the best explication I can give of a new feeling.
On the way to Boston, I rode the ferry across Lake Champlain. It was lovely: heavy weather meant breaking waves and spray every time the ferry headed a wave. Cold water would spout 15 feet in the air, only to be caught by the wind and flung into my face. The assembled passengers and crew of the ferry regarded me as though I were possessed of some particularly low grade of intelligence. It was great.
So now I'm back here, fighting off the post-friend depression that seems to have become a hallmark of my trips away from home. Seeing friends is better than most things; leaving them is far worse than being alone ever was. Shye was right when she said it would be a short drive to Boston, and a long drive home, though each trip took almost exactly seven hours. I found myself repeating the lines quoted above for hours, until I finally put the tape in the deck and soothed my heart with Kyla's mix tape. I don't know if there's a balm in Gilead, but there was balm in that tape as I drove through Lebanon (New Hampshire).
I've been invited to a dinner on Thursday night honoring last year's Eagle Scouts from the Northern Lights district. Large excitement. I suppose I should go, and it'll be good to see some old familiar faces. More on that later if I decide to do it.
More cleaning to do, and I have yet to unpack from college. Maybe I can last until August without unpacking, and it'll be the simplest of things to pack up my life again and return it to Swarthmore via green Pontiac sedan. Right. Well, anyway, I should go to sleep before I get whiny again :>
Nori now has a specific Random Russian Guy. Yes, folks, he's got a name. Go look at her page to find out. Peace, yo.
---
June 7, 2000
Hotline shift this evening. Took 35 calls, a new personal record. Terribly exciting. Also, I saw Dogma. Matt Damon as Loki is a Good Thing.
The PC Is Not A Typewriter is a useless piece of crap. Buy it not. It's 80 pages of information about how to do "typography" with pre-1992 software. Whee dawg. Never mind that there's nothing much of substance in the book. It took 10 minutes to read. Yahoo.
On the other hand, Strunk and White's The Elements of Style is lovely. I've just finished the foreword and introduction, and already I'm hooked. What a lovely book.
I got to talk to Kyla today, to plan the trip somewhat. Yay. It still seems a tad unreal that I'll see her tomorrow. Oh, for a hug right now...
I feel pleased that the route I found from Potsdam to Newton is the same as that suggested by my father. I will cross four states tomorrow, and at least one large body of water. I get to ride the ferry across Lake Champlain. Always fun, and good for a rest from driving.
I trust that you will all survive without my sparkling prose for a few days while I hang out in Boston. It'll be good. I promise.
Nori's trying to steal my ideas. Just because I'm writing about a "random" gentleman of the former Soviet Union, she feels the need for a Random Russian Guy (RRG). I voted for Asinkrit. Anyway, I shall always have something she has not: an actual Russian guy. Yevgeny will come home with me on Sunday, and it will be great fun for all of us.
The Tough Guide to Fantasyland is cracking me up. Lovely book.
I miss the walk to ML every day. It was keeping me in shape. Also dancing. But I'll find something to do here, even if it's doing pushups every half-hour like one of my coworkers.
Lots of odd little thoughts here. A Katie kitty noise: prrreoroww. An excuse: I've got to get up early in the morning. A closing: until later, may the Lord bless you and keep you, unless of course you don't believe in that sort of thing, in which case you should Be Well.
---
June 6, 2000
I have returned.
Wellsville was neat. I got to see Kirararara, and her sister (Lissa), and their mother (Gail), and I got to meet their father (Gary) as well. Also two sets of grandparents, who thought I was the most exciting thing in years. Well, not really.
Oh, right. I got to meet Kyle, as well. Kyle, whom I resemble rather greatly in some ways, and not at all in others. This means nothing to you, probably, but if you're one of the two people it'll mean anything to, heya, how's the weather down south?
I got to cook a little bit while I was living with the Goetschi. Just little stuff, but it was fun. I'd never made lemon-garlic bread before, but it seemed the right thing at the time, and worked reasonably well. Also, my whipped cream was a beautiful complement to the lovely strawberry shortcake that we made. Kira and I sliced strawberries for a long time while distracting Lissa from her homework. It was great fun.
Damn, it's good not having to go to school every morning. Count our blessings, shall we?
We went to the Beefhaus, a restaurant in Wellsville. Therein, I consumed (at the insistence of the family) a "beef on wick", which is translated as "Roast Beef on Kümmelweck Roll." Kümmelweck is apparently a sort of neat Kaiser-y roll with caraway seeds and salt crystals on it. Yummy. Lots of people "we" knew were dining there, which prompted a discussion about the nice bits of small town life - the fact that everyone in the restaurant knew the Goetschiuses among them. (I still prefer Goetschi, hrmph.)
Something I'm learning again and again this summer seems to be: a really good measure of how much you care about someone is how much it hurts when you have to leave. That sounds horribly obvious, doesn't it? Somehow it can be transmuted into philosophical gold under the right circumstances.
Speaking of philosophy, I've been reading Robert Martin's There Are Two Errors..., a lovely book of philosophical puzzles and such. Nice. Lissa wants it, so I'm contemplating the idea of sending her a copy, along with a copy of Madhur Jaffrey's An Invitation To Indian Cooking for Mrs. G.
Kira has a little car CD player. When you turn it on, it says HELLO in cute little LCD letters. This is terribly cute, and good for unending amusement in the car when one is trying not to feel horrible about having to leave again. Not that I'd know anything about that, of course :)
So, I drove home from East Bloomfield after Kira dropped me there (we'd gone into Rochester to put Kira's mom on a plane to Florida - a real life AP grader!) I hope the drive to Boston isn't too much worse. Gah.
Anyway, on the way home, we stopped at the Carousel Center in Syracuse, and more specifically at the Borders there, bringing the day's total Borders visits to two (Rochester was the first). I bought two books - William Gibson's Neuromancer and Diana Wynne Jones' The Tough Guide to Fantasyland. Fun stuff, hehehehe. Yay books.
So, I'm feeling somewhat reticent about the idea of going to Boston on Thursday. I just got home, and I feel sort of like I'm not going to do more than take off my jacket before I head out again. Theoretically I'm driving alone to Boston on Thursday and staying chez Tornheim until Sunday morning, at which time I will retrieve Yevgeny somehow, and drive us home again. Got home at 6:30 this evening, ate dinner (Yum! Dad made French onion soup, homemade macaroni and cheese, and blueberry shortcake), and then we watched Scent Of A Woman. Good flick, but I feel dumb because I should have called Kyla instead of watching. Doh. Anyway, tomorrow I must work, and then I have a hotline shift from 5 to 10 pm, and then I have to drive on Thursday. Somewhere in there I must clean, and it would be nice to get a chance to see my dad.
Partly it's that, and partly it's that visiting people still makes me uneasy. My family doesn't visit other people very much at all, so I always feel that I'm imposing terribly - reason #2 why I annoy the hell out of my hosts by trying to be useful around the house. I don't know.
I seem to have moved slightly back into the space of "what the heck am I doing? Why am I doing it? Does it/anything matter?" after the trip - god only knows why. Oh well. I want a hug.
But, it was really, really good to see people, and to get out of Potsdam. My cat is walking on things here in the living room. Hunh. Now she's attacking the catnip pillow again. Get it, Scampi! Rararrrrarrarararaarrrrrrrarr, as Katie T. would say.
I had all manner of exciting thoughts to share, but I seem to have forgotten them. Problem is that writing all that stuff up there made me feel sad, which I wasn't particularly before. Hrm. Note to self, don't do that again.
So... tomorrow, call Kyla, figure out Yevgeny in Boston, talk to people on hotline, clean. Please get a chance to see Dad, since it's sad sad sad not to see him for more than an hour in a week and a half. Stupid scheduling.
Oh, right. Watched The Great Muppet Caper, The Court Jester, Austin Powers, The Breakfast Club, and several Buffy and Angel episodes while at Kira's. Yay electronic entertainment!
Also oh, right. I really am a chameleon linguistically. Ask me to pronounce Kira like Lissa does it. It's one of those things I won't bother to write, given that we don't all have IPA fonts.
---
June 1, 2000
I will not be here the day after tomorrow.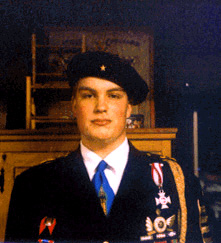 This is because I will be at Kira's house. It will be greatly exciting. You'll see. I will be living it up in Wellsville, and you will just have to content yourself with your quotidian life elsewhere. Unless of course you're a) reading this after the fact or b) Kira, in which case I will have demonstrated myself effectively to be a moron. Yay.
Brian Lawless called today while I was (surprise!) cleaning. Brian's my bagpipe instructor from last summer. We chatted a bit, about how the band (Spencerville Legion Pipe Band) is doing, and about what little luck I'd had finding piping instruction in the Philly area. Annoying thing is, I found a band down there. It was even staffed by someone who'd come from Spencerville previously. It was all set to be a beautiful thing, and then scheduling intervened. See, I'm in college choir, and that meets on Wednesdays from 7-10 pm. Problem is, the Cameron Highlanders also practice at the same time, plus they're hard to get to from Swat. So I don't know what to do about that.
But anyway, Brian called, and he said after hearing my tale that he's still interested in having me as a student this summer. Yay! So maybe I'll actually get to be a decent piper when I'm roughly 30. Aw reet!
Talked to Kira on the phone, about directions for picking me up tomorrow. She sounds okay, really. I'm hoping it's for real and not just me being unperceptive. Oh well - I'll be there tomorrow, and then I can figure everything out. Yep. That'll be good. Oh, right. So that's where I'll be until Tuesday, at which point I will be coming home for a short while.
I'll have another hotline shift on Wednesday, and then it looks like I'm going to be headed off to the wonderful world of Boston, yay: ostensibly to retrieve a Russian by the name of Yevgeny who is going to be staying with my family, and practically because it will afford the opportunity to see Kyla.
Damn, I miss her. You're tired of reading that. You come to this damn site every day looking for interesting content, and every single time, he's sitting there whining about missing that girl! Damn it! Gimme some objective content already!
Yeah, well, you can just deal. Hrmph. I called her to ask about next week, and it was good, but it was also sad, because talking to her made me realize again how very much I miss her. It's funny how much you begin not only to take things for granted but also to rely on them as pillars of your world. There were days when I only saw her for five minutes, but I'd trade some hyperbole-filled large valuable Something for a few more of them right now. Sigh. Anyway, she says she's doing well, that home is good, that life is basically pretty good. This I like to hear. Happy Relaxed Kyla is a much better thing than Stressed Unhappy Kyla.
Winning the random thing award for the day, I was bored this afternoon, so I started playing with Google this afternoon, putting in random people's names. Turns out there's a goddess of war named Kyla in some arbitrary D&D-like game. Weird. Also a site by people whose daughter Kyla died of a brain tumor when she was four. So it goes. Not the most uplifting site, that. Oh well.
Nikki and I were talking last night at Reachout about how working a hotline shift nearly always makes you feel better about your own problems, glad that you have your problems rather than someone else's, and glad to be able to help a little with those of others. It's sort of odd that way. Just a thought.
Katie is trying to think of a word to describe the set of things which reference me. We've tried Hollisdom, Hollisity, and even Hollisage, and none of them seems to work. It appears that Katie is going to have to survive without a convenient noun for this purpose.
Oh, right, I cleaned some more. Yeah, I have a bookshelf now. With clean books on it. I even took all of them off, vacuumed them, and dusted the shelf. Shye will be proud. I also cleaned some of the drawers in my desk. This was exciting because it unearthed Notes from The Ex-Girlfriends.
It's odd the way some things happen. I'd forgotten that Katie (Ames, not Tunning, wouldn't want you getting confused. Katie in this case is Potsdam Katie) and I had ever been "going out", simply because it worked so horribly. Gawd, that was bad. Thankfully, we're much better friends than... whatever.
Also a bunch of things from Tyler, many of which were artistic, true to her style. Again, another girl to whom I think I'm a much better friend than a boyfriend.
One hopes I won't be writing an entry in a few (insert time unit here) saying how much better a friend I am to Kyla. Meh. That would be depressing. Doesn't feel like that's likely at the moment, though. Take it as it goes.
So, I'm sitting here reveling in being old and wise, which means that someone's going to have to knock me back into my place, and the circumstances dictate that it's going to have to be Kira, as she's the only one around. Hrm.
I finished reading DWJ's Dogsbody this morning. I actually woke up early to read in bed (after staying up reading until 4, heh), it's that good. Yay Diana Wynne Jones.
I did laundry today. It was exciting. Also I had a pesto pizza bagel for lunch, which was almost equally exciting. Also talked to Alice Zirn at the Co-op (her son Nick is a year younger than me). Realized that I don't resent the school system for what it did to me in kindergarten anymore. Hunh. Maybe I'll write about that someday.
There were nice little basil plants at the Co-op. I wanted them. Also there was mascarpone and ladyfingers, which I wanted to buy and make into tiramisu. Eventually, however, we settled on blue corn chips and dried cherries for the road tomorrow. Yum.
Ooh! In cleaning out my bookshelf, I found lots of old friends. Lloyd Alexander was there in force, along with various others. The Just So Stories were there, just as I had left them. Bread and Jam For Frances is there! Yay! Also Alexander and The Terrible, Horrible, No Good, Very Bad Day. Puppy Too Small, as well, and some Babar, and lots of Robin Hood, King Arthur, etc. I keep realizing how relatively un-well read I am, and I'm hoping to rectify the problem. But until then, I will keep enjoying the oldies but goodies, yay, with occasional forays into new things. Woohoo.
Oh, one final note. The picture above is me on Halloween two years ago. The shirt is a standard white dress shirt. The beret came home with me from France. The decoration on it is a Mother's Pin that's given when your son reaches Star Scout rank. The tie is a wonderfully blue and yellow Eiffel Tower tie that my dad got me for god knows what reason. I love it. The jacket, now, is the masterpiece. The jacket is part of my costume from The Sound of Music, when I played Captain/Baron Georg von Trapp. Mom and I had a great deal of fun with it. The shoulder stripes are just made up. The braid is something my mother had lying around. Various pins and ribbons on it are cheapo jewelry from Ames that my mom got and ripped apart and re-arranged. Also some of them are pins that I've earned - several Scouting ones, an NHS pin, my Speech and Debate pin, etc. Some of them are hers - NHS, marching band, etc. But the crowning achievement is the Maria Theresa Medal, which you see on my left shoulder. It's an Iron Cross on a red and white ribbon.
So, Georg von Trapp was actually a highly decorated veteran. The Austrian navy loved him. Woo, yes they did. Anyway, they awarded him the Maria Theresa Medal Of Honor, which if I remember correctly is for Valor or Bravery or some suitably honorable military trait. So, Mom and I did some research on the medal. We recreated it fairly closely to the original, including ribbon style, size, manner of wear, and look. The difference is that ours is made of Sculpey. Yeah, creativity! Just thought you'd like to know.