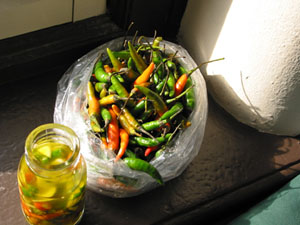 prik kii noo, they're called, or Thai bird peppers, or Thai chiles. A mass of peppers, they are. A hoard of Capsicum frutescens, a wealth of capsaicin clutched carefully in my hand. These have powered a Thai green curry paste that made beef satay, a fiery fresh water pickle, and the garlic chile oil that's pictured with them. Wonderful to slice them using the cleaver, cutting board carefully balanced on the bathroom windowsill, and better to spoon them into the jar. Quite an elegant container for one that cost 50 cents at IKEA, eh? I sliced chiles carefully, moving them with the spoon to avoid touching the oil.
Capsaicin, the chemical of our dreams, is oil-soluble, you see, and so the olive oil infusion seemed like a necessary thing. The things we dream up to keep ourselves sane. Less than six weeks until I am a college graduate. Thursday night, Ben Schak and I finished up our natural language processing research, wrote the paper, and handed it in. We'll have some revisions to make, but the paper is in, I won't fail the class, and for all intents and purposes, I am now a CS major, signed and sealed. I could do nothing for the rest of the semester, and I would still graduate. That's an odd feeling.
And after that... what? Homeward, where I'll be productive, except that it'll likely take a while for this to sink in. Swarthmore. Strange to think of leaving it so soon. Mozart Clarinet Quintet on the stereo as I write. I've been listening to the chamber music constantly in the last little while, preparing for the repertory exam of the same name. I feel like I'll be well-prepared eventually.
But yes, I made chile oil, and it's sitting in the refrigerator, getting ready. Flavors mingling, and sometimes I wonder whether all the cooking is my way of dealing with change. Not that it's a bad thing; I just wonder. It strikes me sometimes how much I am my parents' son: on Friday night I spent four hours making dinner, and it didn't seem unusual or wrong in any sense. Is rhythm the relaxant I use? I play music, give massages, and chop vegetables. I wonder about that, too.
So yes, when I saw those chiles, a huge bag of them sitting on a cart in the Italian Market, I felt a bit like Ali Baba staring at the trove. I gave the man his $1, and he gave me the bag. Hotter than habaneros by weight, these are the gold standard of eastern chile use. Joy, a friend who loves hot foods, was in a play on the weekend, and I made her a flower out of chiles tied to a stick with dental floss. It was amazing.
Today is April 21st. If you've seen me today, you've noticed a big grin on my face. I had a wonderful vocal coaching today; I saw a chipmunk yesterday. But the real reason I'm grinning so much?
Eliz and I have been together for a year and a half today.