...I was just trying to think of things to say to keep his eyes on mine because they were like a drug...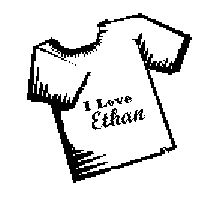 I guess another thing you should know about me is that I love to make up stories, and to tell them to people like they're the truth. I don't mean lying, because they always know it's not true, so it's not like deceptive of me. But I make up things about how I know that guy who's sitting over there and how that's not really his daughter but he kidnapped her last week and how I know this because I was out for a walk and I just happened to be outside his window and... or maybe that you know, I went to Space Camp when I was younger and I met this cute boy there and how we made out in the zero gravity tank and wow was that an experience or maybe do you see that girl over there? She told me that she likes you, she's been stalking you for a month now, but she'd never admit it because she's too shy-- just really silly stuff like that. People seem to enjoy it because a lot of times they're not expecting it and it surprises them, but I don't really like it, I wish I could be more honest when I talk to people because even if they know I'm not telling the truth that doesn't make it okay, and I have friendships with people who I barely know, it feels like. No matter how hard we laugh or the fun times we have pretending that we don't speak english or maybe that we're fraternal twins, that doesn't mean too much if we don't really know each other that well for real. But I started thinking like this after I met Ethan, so on that night, with his eyes like mesmerizing me, all I was thinking was I need these eyes, I need this boy to keep paying attention to me.

So we were driving past the bank, and the digital thing flashed that it was 67 degrees but it felt hotter than that to me in that back seat pressed up against this mysterious boy with a voice like copper when it turns green -- I don't know why I thought of that when I first heard him sing in that smoky coffeehouse, but all I could picture was copper rooftops and copper rings and they were all turning green, like his voice was a chemical reaction making them change -- making everything change -- and so even if I thought I was being cautious maybe I'm sort of lying if I say I didn't have a crush on him that night. That's such an inadequate word though, crush, it's like an orange soft drink or what you do to the can after you're done drinking the orange soft drink, it's not the way I was feeling for him when I blurted out, "I'm the president of your fan club."

Well his eyes stayed on me when I said that and so I kept on with it. "I've got a big cardboard box at home full of tee-shirts with your face on them," I said, and I meant it in a silly flirty way, except I've never been too good at flirting, I've never been too good at lying either which I guess is why I do it so much, because people always know I'm lying when I am and sometimes think I'm lying when I'm not, but never the other way around, so I had to turn it into a joke, like, ha ha, you know you9re lying Genna, and I'd laugh at myself too.

All he said was "Really?" but his eyebrows raised a little and I thought I saw the faintest touch of a smile and the way he said it, he said it like he wanted to believe me.

I just nodded.

Then he looked away, and I didn't mind this time because I knew for at least a few more seconds, no matter where his eyes were, his thoughts were on me and on what I'd said.

We pulled into the gas station then, I think Trysta's boyfriend wanted something to eat and it's one of the ones with a little quicky mart attached. Ethan turned to look at me. "Can I have one?" he asked, smiling.

"One what?"

"One of the tee-shirts with me on it." His dimple was glinting. He had a dimple.

I knew he didn't really believe me, obviously I didn't have tee-shirts, I'd only seen him play the night before, but I really liked it that he was pretending. "No, no you can't," I said. "I'm sorry."

"Why not?" he pouted.

"Well," I said, pushing Trysta's seat forward and sliding out of the car, "don't you think it would be conceited of you to wear a tee-shirt with your own face on it?"

He was out of the car too now. He shut the door and walked with me into the gas station. I liked how we walked together, it was like our bodies were already in sync, maybe from touching so long in the car. I looked down at our feet and yes, we were in step, his brown doc martens and my smaller purple sneakers. "I wouldn't wear it," he said as he opened the door for me. "I'd just have it, as a souvenier, sort of."

"Oh, that makes more sense," I agreed, "but you still can't have one. Because they're all sold already. People pre-order them. You're pretty popular."

"Okay," he said. "Hey, do you want some Fritos?" He was holding up a bag.

I wrinkled my nose at him. "I've always hated Fritos. They taste like wet dog smells." Even then, I felt I had to balance all my stories with some honesty. Eating something you hate, just for a boy, is pushing it too far.

"Okay. Let's get something else then," he said.

Oh my god, I thought, he's not going to get the chips if I don't like them. He respects my opinions. So what if it's only cornchips we're talking about. He likes me!

We ended up getting Pringles, and I still can't eat them withough thinking of that night. He fed them to me back in the car and I thought something was happening. Maybe he was just being nice, or maybe he really did like me and something -- like my obsession -- made him change his mind. It makes me sad now, and I just want to go back to that night and tell him about my relationship with my mother, or my opinions on communism, or something, anything real. Because then, even if he had rejected me, he would have known. He would have known what he was rejecting. Maybe it would have hurt more, knowing that he was rejecting the real me, but I don't think it would have lasted this long. Because I was seventeen then, and now I'm nineteen and I'm still the president of this stupid fan club.

The phone rings and it's Dixie from teh athletic-wear shop where I get the tee-shirts screened, saying that the new ones are in. And sometimes I just want to wake up from this life and I start thinking, how did it get to this point?



: : : : : : : : :




After the Pringles, we went over to Trysta's house and watched a movie, and I don't even remember what it was because all I was watching was Ethan. By the time the movie was over and we had listened to Trysta's new CD that she just had to play, it was pretty late. Ethan said he had to go home because he had band practice in the morning and I couldn't think of anything to say to make him stay or to ask him somehow if he'd had a good time meeting me because in real life people don't just say, "It was really nice to meet you. When will I see you again?"

So I just watched as he and Trysta's boyfriend walked out to the car, and god I loved the way he walked, his shoulderblades slipping in and out of view underneath his shirt, and then when they'd driven away I told her I was kind of tired too and asked if she could take me home. In the car I asked her if she knew where Ethan lived and she kind of looked at me funny but said, "Out in the country I think, by that place that sells pumpkins."

"I was just curious," I said, which is always a lie, no one is ever curious for no reason. Even scientists are trying to answer a hypothesis when they do experiments. I wanted to know where he lived because it made him more real. Like someone who has a house and parents and pajamas couldn't be just a figment of my overactive imagination. And I guess knowing where he lived meant I could think about what he was doing there, which I knew I would be doing since I was already admitting to myself that this beautiful boy was conquering the better part of my thoughts.

Trysta must have known that too because when I got out of the car at my house she leaned over and said, "I think Ethan's band is playing in Edgebrook this Saturday."

"Oh, do you want to go?" I asked like I didn't know what she was talking about.

"Yeah, let's," she said. Sometimes I think Trysta understood me a lot better than I give her credit for. And I sometimes miss her now, though not all that much. She went away to college last year, and I didn't really mind. I guess it made me realize how little our friendship really meant, and it probably should have taught me a lesson about me and Ethan, but I wasn't ready to question that yet. And besides, by the time I figured out about Trysta I was pretty involved in this whole fan club thing. You can't just stop, I thought then, but now I'm not so sure. Last year my grandma stopped smoking, and she'd been doing that for almost fifty years. She just stopped. I admire that.

I tell Dixie that I'll pick up the tee-shirts after I get off work and maybe I sigh a little too loud.

"Genna, honey, is something wrong?" Dixie asks.

"No, why?"

"You just sounded sad," she says.

"I'm fine. Maybe a little tired. Up late last night, that's all," I lie. I went to bed at ten.

"Out enjoying the night life, no doubt," the old woman chuckles.

"You know it."

"See you later then, sweetie," she says.