My mom's family has been going to Boothbay Harbor since the 1960's. I've been every summer of my life. In some ways, it feels more like home than any other home. All the family on my mom's side goes; my grandparents, my aunts and uncles, all my cousins.
I have all these great memories of barbecues on Little Beach, a few steps down from my grandparent's house. Juniper Ledges. Boothbay Harbor's one of those places where you get to name your house, or cottage, as it were. Carrying hot dogs, or in recent years, Tofu Pups, down in Shop 'n Save Bags from the house, along with skewers and buns, ketchup and mustard, homemade potato salad, a tin of tollhouse cookies and at least two different kinds of dill pickles, marshmallows and Hershey's bars and graham crackers, cans of Dr. Pepper, salt and vinegar potato chips, carrot sticks,lemonade... and the smoke from the fire always gets in our eyes and sand always gets in our hot dogs and our butts will invariably get wet from sitting in a tide pool and it never seems quite as perfect as last year... but isn't that just how it was last year?
When we were young, my cousins and I would play all sorts of great games on Little Beach. Each of the rocks was a store in our town and we still remember them by those names, and refer to them as "the hotel" (which flooded at high tide; we had to find someone to scold for leaving their bath running) "the candy store" where seaweed became taffy, snail shells were chocolates, and pebbles were jelly beans, "the ice cream store," a high rock under an overhanging spruce branch.
Juniper Ledges is on the Townsend Gut, where the harbor narrows between Southport Island and the mainland. Up a ways, the green swing bridge connects the two. As a child, lying in bed on summer nights, I remember falling asleep to the lulling hum that cars' tires made going across the bridge.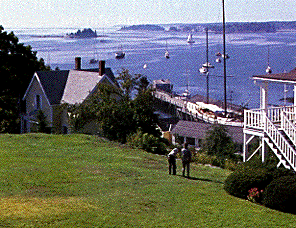 Now, my family has our own house, over on Samoset Road. It's on a similar narrow channel, between Indiantown Island, Sawyers Island, and the mainland. But shallower -- our dock sits on mudflats a couple hours a day at dead low tides. I think going to Maine every summer has influenced the kind of person I am in some ways. Being taken out of my hometown for a month or two every summer meant that I had to learn to be without my school friends. It not only gave me time to be with my cousins and my siblings, but also a chance to be alone in a more potent way that I ever was in DeKalb. I think it was good for me; probably made me more introspective.
In more recent years -- from about the age of 15 on -- it also meant a chance for me to find out who I was when I wasn't forced into all the roled I'd been playing in school relationships since first grade. It was a chance to try out new ways of being with people. I liked myself for this ability to go into town and meet friends.
Of course, the best friend I "met" in Boothbay Harbor wasn't really new at all -- it was my cousin Erin. Obviously, we'd known each other forever, or at least since we could remember, but since she moved around between Boston, NC, and California, and I lived in DeKalb, we weren't that close.
Until the summer when we were 15. And then, I'm not sure how, or why, but something just clicked. We realized that we complemented each other perf ectly, and it was so comforting to already know everything about each other's families. We could band together when big family gatherings got stressful, as they're wont to do in any family. We could talk about everything. We had similar taste in music, clothes, friends. We looked at life in the same way. That summer was wonderful.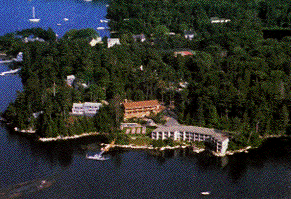 I have so many fond memories of Boothbay. Even my summer jobs there have been food for my short stories and such. And somehow, being a housekeeper is more pleasant when you have a view like that one.