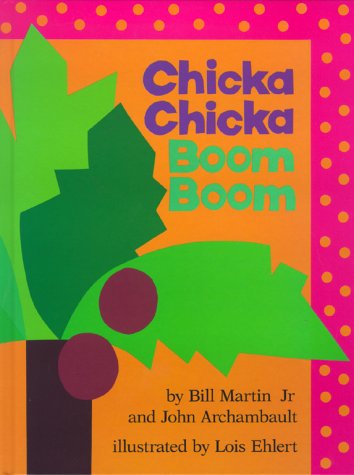 chicka chicka boom boom by john archambault and bill martin jr. illustrated by lois ehlert
a told b and b told c "i'll meet you at the top of the coconut tree."
so starts a book loved by every three year old that i have ever read it to. this alphabet book uses rhyme and rythem to create this enjoyable tale. the words will roll off your tongue. little kids quickly join you in saying "chicka chicka boom boom" and soon they might have the whole tale memorized. kids will ask you to read it to them over and over, and soon they will want to read it to you! it is a great step towards learning to read, as these youngsters gain confidence and believe that they can read. be careful, though. the story will get stuck in your head and you'll find yourself in public muttering chicka chicka boom boom to yourself. the audio tape that is available to accompany the tape is well worth owning.