The Lacrosse Tradition

Lacrosse was first played at Swarthmore in 1891. The college has fielded teams consistently since 1897, building a truly outstanding tradition in the game.

From 1990 to 1912 Swarthmore teams were consistently among the best in the country winning the intercollegiate championships in 1900,1904, and 1905, while losing only one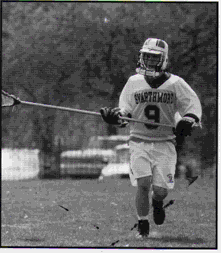 game, to Johns Hopkins(who was the champion) in several other seasons.

Another fine era of lacrosse began in 1931 when Avery Blake, a 1928 graduate of Swarthmore and one of the six alumni in the Lacrosse Hall of Fame, returned to the college as its coach. For the next 29 years he turned out strong, capable teams that posted an overall record of 180-107-2. The 1940 team was undefeated and the 1941 team lost only to Johns Hopkins, the national chanpions.

Blake's teams performed very well in the post WWII era as well. Swarthmore won or shared league championships in 1947,48,50,51,52,53,57,and 59. During the 1953 season Orville Wright '54 set two national marks: 72 assists in a season and 14 assists in a game (still school records) to lead the squad to a 9-1 record.

During the 1960's the Garnet entered the newly organized Middle Atlantic Conference(MAC) and posted league championships in 1965,66,and 67.

Swarthmore returned to excellence in the eighties winning MAC crowns in 1982,84, and 85. The 84 and 85 squads share the college record for wins in a season with 11 and the 84 squad participated in the Division III NCAA Tournament.

With three intercollegiate championships and fourteen league or conference championships, Swarthmore looks to continue their traditon of excellence.
---