11.30.01 : (stopgap - pizza) midnight snack - sweet potato gnocchi in sauce (fresh tomato, canned peeled tomato, bacon, shallot, garlic, sausage, sherry, rum, butter, half and half, sage, salt, pepper)

11.29.01 : the 9 o'clock sage run - chicken saltimbocca, sauteed spinach with prosciutto, sweet potato gnocchi in butter-parmesan-sage sauce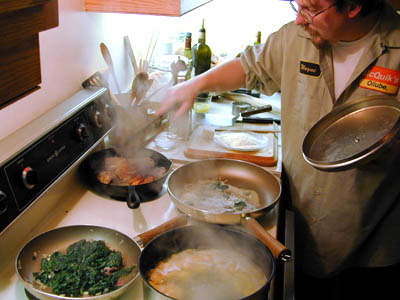 11.28.01 : italian sausage in wine, fennel braised in turkey stock, bruschetta
11.27.01 : home-made sweet potato gnocchi in butter-sage-parm sauce with grilled chicken and spinach salad
sweet potato gnocchi

4 sweet potatoes, about 2-3 c flour, 1 t salt, 1 egg, some patience

for a first try, these were pretty stinkin good. we saved half and froze them, so we'll see how they are when we're not so emotionally attached.

boil or bake the potatoes, the remove skins and put through a food mill. in a bowl or on a counter, lay out the potatoes in a mound, cover with about 5/6 of the flour, and create a well in the middle, where you put the egg and salt. go around the well, incorporating the potato and flour, and when it's all kinda mixed, start kneading. here's the maddening part: if it sticks to you, don't worry, it won't take over your soul. add flour. we added flour for days until it was somewhat dry to the touch, and we'd been kneading it for more than the alloted 4 minutes. role into snakes (remember 1st grade?) about 3/4 of an inch in diameter, then cut into pieces that are smaller than you want the eventual product to be. take each piece and, placing it on a fork, roll it off with your thumb, creating the trademark ridges. set aside, get water boiling, and cook for about 7 minutes, or until they float. try it, you'll like it. half of this amount stuffed us both, cuz they're filling.
11.26.01 : hot and sour soup (see the joy), beef and scallion rolls, sake, "road to hell" sundae (rocky road ice cream, bailey's, hershey's hot fudge. good intentions be damned.)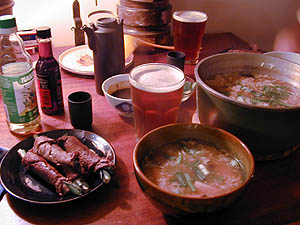 11.25.01 : old-stuff-in-the-fridge-with-pasta soup
11.24.01 : breakfast for the family - buttermilk pancakes, hashbrowns, rosti, bacon
rosti

potatoes, butter, salt

this is one of my favorite swiss dishes - boil the potatoes until about 2/3 done, the cool and shred. melt some butter in a pan, and add in the potatoes with a healthy dose of salt, and mix around a bit, then flatten into a round. fry until golden undderneath, then flip using the plate-on-top-hold-on-tight-and-flip! method, then slide back into pan with more butter and fry other side.
(thanksgiving elsewhere... we both made gravy. strange.)

11.19.01 : roast pork with celery root and potatoes, spinach salad
roast pork

marinade: a shot of vermouth, about 1/3 c molasses, about 1/3 of a bottle of white wine, 1/2 c OJ, juice of a quarter of a lemon, 2 spoonfuls of tamarind, 2 garlic cloves, a few shakes of worchestershire sauce, about 1/2 t sweet paprika, 1/2 t oregano, salt and pepper

it took us about a half an hour of tasting to come up with this marinade, and it turned out darned good.

marinade pork overnight, then cook at 250 degree for 2 or 3 hours (depending on size of loin). reduce the marinade to a sauce - this is one of the most rewarding things about cooking meat like this. sauce is good.
11.18.01 : keilbasa sausage, honey beans, bread with olive oil
wayne's honey beans

2 cans drained cannellini beans, 3 strips of bacon cut into smaller pieces, an onion, 2 cloves of garlic, some minced ginger, honey, molasses, cider vinegar, salt and pepper

like baked beans, only on the stovetop, with honey.

in a big frying pan, sautee bacon until crisp, then thro in onions and garlic and ginger. add beans and sautee for a bit. throw in water (one can worth) and a glug (2 tablespoons or so) each of honey, molasses, and cider vinegar, plus salt and a healthy dose of pepper. simmer for about 5-10 minutes. serves 3-4. these are especially good the next day.
11.15.01 : charred yellow theme - grilled chicken, "dirty pasta", fennel gratin (hint: mozzarella is not a good cheese for this, tho it works alright and it does look pretty), grilled garlic bread
dirty pasta

a yellow squash, olive oil, butter, parmesan, salt and pepper, penne for two people

this is so simple and so good. first you must embrace the char, and say your char mantra: "om charismifrend iyelikedechar". then get the pasta water going. slice the squash in half and drizzle with oil, then sprinkle on salt and pepper, and grill face down. toss in the penne, and when it's done, you'll want to drain it, put it back in the pot, and throw in about 2 T butter, grate some parm in, and stir it around. when the squash is about half done, you'll want to flip it so that the skin can be exposed to the flame and charred. take it to the pasta, slice into slices, and toss in with pasta, getting the nice charred bits all over everything. serves, well, two.
11.14.01 : definitely-not-from-a-box pad thai. yup, not from a box. really, trust us...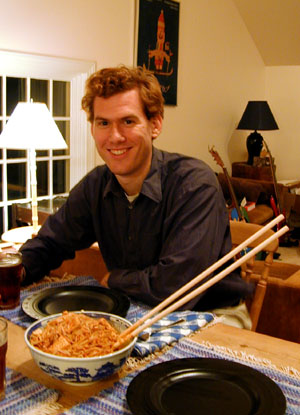 ben with pad thai
11.13.01 : shrimp-kielbasa shish-kababs (wooo, alliteration!), roasted beets and potatoes, grilled garlic bread, romaine with dijon-garlic vinaigrette, german beer
(incidentally, we did a pepsi challenge with the shrimp: the four permutations of bbq sauce and shell. we liked sauce with shell still on best - shrinp stayes moist, and sauce still gives some flavor)
roasted beets and potatoes

small beets, baby potatoes, smallish red onions, fresh thyme, olive oil, salt and pepper

this combo is in the joy, but cooked in three seperate dishes. phooew on that. just take on tray, and if you don't want beet juices on the potatoes, put down a layer of crinkled aluminum foil on one half for the elitist spuds. preheat the oven to 375. peel the beets and cut into managable pieces (i halved the small ones we had), do the same with the potatoes, and place on their respective sides. quarter the onion and lay down the middle (here they will intercept some juices and get a neat colored edge). toss over some olive oil, and sprinkle salt and pepper over everything. on the potatoes, place a bit of thyme (the olive oil will help it stick), and then cover it all with tinfoil. roast for 40 minutes, then uncover for about 20 more minutes (watch the tops for browning, and test with a fork for tenderness. this is about 20 minutes more than the joy indicated, but it made everything really yummy). servings depend on how many ingredients you use - 5 of each beets and potatoes was good for 2-3 people.
11.12.01 : tortellini in leftover lasagna suaces, boiled "post-weekend" asparagus (you figure it out)

11.09.01 : midnight dinner - 5-hour braised leg of lamb, mushroom-sage stuff, mashed potatoes, spinach

"we have the cure for the common cold: a leg of lamb and several bottles of wine."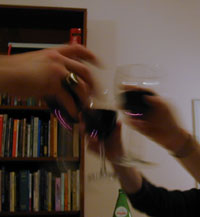 11.08.01 : stuffed butternut squash, iraqui rice, spinach and kohlrabi salad
11.07.01 : salmon cakes, black beans and rice
leftover-salmon cakes

two decent-sized salmon fillets encrusted with spices, half a red bell pepper, about a quarter of an onion, about 2/3 c breadcrumbs, an egg, a splash of worchestershire, salt and pepper

ever wonder what to do with leftover salmon? well, now, when you do wonder, you know what to do. crumble it up, mix it with the above ingredients (dice the pepper and onion really small), and form cakes out of it. sautee first in a pan with olive oil to brown the sides, then bake at 350 for about ten minutes. these were moist and good, despite my lack of hope for resurecting leftover fish. if your leftovers don't have spices in them, add some - we had cumin seed and some other stuff... check out 10.29.01.
11.06.01 : dude, lasagna?
dude, lasagna?

pancetta, italian sausage, ground beef, onion, one cup red wine, one can crushed tomatoes, oregano (fresh and dried), two smashed cloves garlic, salt and pepper, bechamel sauce with nutmeg, lasagna noodles, mozzarella, parmesean

"we need prophylactics all over our stove."

so we had planned to make pasta with red sauce. you know, simple, cheap, we had all the stuff we needed for it. then i started thinking about ricotta. looking in the fridge, we didn't have any. but we did have mozzarella. "hey wayne, wanna make lasagna?" "yah... no... yah. man, you had to go and take it to the next level, didn't you."

start with three pots. in one, make a red sauce by sauteeing meat and onions, then deglaze with wine, add oregano and garlic. when decently reduced, add salt and pepper to taste. in another, make bechamel. in the last, boil noodles. layer in noodle, sauce, noodle, bechamel, noodle, sauce, cheeses, and bake at 375 until it looks good. remove from oven and let cool for a few minutes. makes as much as you want, depending on how many noodles you use - the sauces can be stretched or saved.

we rushed this a bit... we could have let the sauces reduce and thicken more, and we definitely needed more cheese. use lots of cheese. that's what lasagna is: cheese. remember that.
11.05.01 : chilli with chorizo on jasmine rice
chilli con carne y carne

half an onion, a shallot, a chorizo, half a pound of ground beef, half a guiness, 8 oz of small red beans (already soaked and drained), a small tomato, cumin, a big splash of cider vinegar, about 2 T brown sugar, half a small can of tomato paste

sautee onions and shallots, add chorizo and ground beef, brown, then add guiness and a bit of water, then add beans and diced tomato. spice with cumin and salt and pepper. when beans are nearly done, add cider vinegar, brown sugar, and tomato paste, and reduce until you're happy.
11.04.01 : corn chowder

11.03.01: brunch - white wine-dijon-parm omelettes with spinach-shallot-ricotta, coffee cake, noceccino (cappuccino with nocello, a walnut-flavored liquor); dinner - heavenly bruscheta (sourdough with honey and gruyere), chris' "pauper", grilled pizza, grilled stickies with butter pecan ice cream
an omelette to force feed to your girlfriend

6 eggs, glug white wine, 2 big glops dijon mustard, 30 seconds vigorous grating of parmesean, 3 handfuls spinach, 1 shallot clove, 1 clove garlic

"jesus is coming! have some eggs!" - wayne

sautee spinach in minced shallots and garlic and olive oil, and set aside. mix eggs, wine, dijon, and parm, salt and pepper, and pour into pan. when top side is mostly firm, add filling down the middle and flip over one side. serves 3.
electra's G-rated f**ked-up coffee cake

streusel topping: 2/3 cup flour, 2/3 cup chopped walnuts, 2/3 c brown sugar, 5 T melted butter, 1 t cinnamon, 1/4 t salt

cake: 1 c flour, 2/3 c sugar, 3/4 t baking soda, 1/2 t cinnamon, 1/4 nutmeg, 1/4 t salt, 1 1/4 c sour cream, 1 t vanilla, 4 T butter, 2 large eggs

"the key is to f**k up." - electra

so, in the joy, there are two recipes for coffee cake next to each other. in the chaos of the kitchen, they got a bit jumbled. she crossed the proverbial streams. you end up with less flour and more sugar, and both sour cream and spices. it's pretty darn good.

put rack in lower part of oven, and preheat to 350. grease 9x9 pan. combine streusel ingredients, leaving large clumps, and set aside. in one bowl, mix flour (slowly, in three parts), sugar, baking soda, cinnamon, nutmeg, salt. in another bowl, mix sour cream, vanilla, butter, and eggs. mix wet and dry, pour into pan, and bake for 25-30 minutes, when a toothpick comes out clean (ya, we finally bought toothpicks). serve warm
the pauper

1 shot rum, 6 oz. apple cider, fresh nutmeg, lime, ice

you must be the first to lose at monopoly to deserve this drink. first, serve rum and cokes to your friends, and now that you're out of coke, combine the above ingredients, and stir with a thin piece of cherry wood that you stole from work.
11.02.01 : fried chicken of the gods, mashed potatoes, green beans

11.01.01 : breakfast - crepes (recipe in the joy of cooking) with lemon butter, dinner: knockwurst in a toasted pita, asparagoi gratin, pasta with butter and sage, pinot noir, tawny port
asparagoi gratin that makes me weep

about 30 stalks of skinny asparagus, 6 strips of prosciutto, pepper, bechamel sauce (milk flavored with fennel instead of onion variation), and three long strips of gruyere

to me the plural of asparagus has always been asparagoi... somehow hanging out with wayne, a classics major, just does this to you. "asparagoi" would be the plural of greek "asparagos", which was later latinized to "asparagus". as wayne said, "this is the problem with being who we are..." - we think of this stuff. anyway...

preheat the oven to 400, and chop the asparagus so that it is just as long as the small oven dish that you have. the step that we missed: boil or sautee the asparagus for a bit, until it is mostly cooked (we didn't do this, so we had a much crunchier version, which i kinda liked... it offset the richness of the sauce. but that is neither here nor there...). wrap five stalks in a piece of prosiutto, and place in the dish. grate some black pepper over them, pour over the bechamel sauce, then lay strips of gruyere perpendicular to the stalks, and place in the oven with no lid. bake for about 10 minutes, then broil until the cheese browns a bit. serve with tongs, and don't forget to get some of the sauce. served two.
october | december