5.31 - single malt scotch tasting, courtesy of ben:
dalmore 12 (highland) - spicey, sweet (caramel), "sprouts vines in your mouth"
glenmorangie 10 (highland) - light, sweet (honey), like a sauvignon blanc of scotches
aberlore 10 (speyside) - balanced, some spice, sweet (butterscotch)
laphroaig 15 (islay) - like a bbq in your mouth, smokey, meaty, salty, long finish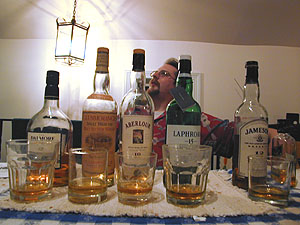 5.30 - breaded veal with mushroom pasta and spinach arugala salad
5.28 - honey-pepper glazed chicken with apricots, gratin dauphinoise avec leeks, arugula and watercress salad, louis latour macon-lugny "les genièvres" white burgundy 2000
honey-pepper glazed chicken with apricots

4-5 chicken thighs, 3 T honey, 3 T sherry vinegar, lots of ground pepper, course salt, olive oil, 6 fresh apricots (halved and pitted), splash of wine

preheat the oven to 350 degrees (this is for the potatoes too), and get a cast iron skillet to fairly high heat. rub the outside of the thighs with course salt and pepper, then place in pan - you may want a grease-splash guard-thingy. brown on bottom side for about 2 minutes, then flip over to top (skinned side) and brown for another 3-4 minutes. mix together the honey and vinegar, then grind in as much pepper as you can, about 1-2 teaspoons (fresh ground, this is a lot of elbow-work). place appricots in spaces between thighs, splash in wine, then brush with the glaze and put the whole thing in the oven. after about 15 minutes, check the meat for done-ness, then brush on more glaze, cover, and continue to bake for probably another 10 minutes. before serving, brush on one last coat of glaze.
gratin dauphinoise with leeks

2 large or 3 medium baking potates, one gigantic leek, about 1/4 stick of butter, about 2 c milk, fresh nutmeg, salt and pepper, a garlic clove, parmesan cheese (better if it's gruyere, but this is what we had)

preheat oven to 350 degree, and heat a large pan over medium-high heat. slice the potatoes as thin as you can without losing fingertips, and set aside. chop off the top greens of the leek and the bottom, then wash any dirt from the top crevices and slice into 1/4" cross-sections. add to pan with about half the butter, and suatee till soft but not browned. add in potatoes with some salt and pepper and sautee in the rest of the butter, with a few tosses, for about 10 minutes, or until potatoes start to get a bit brown. add the milk and some nutmeg, and bring to a low simmer (don't scold the milk), about 3-4 minutes. rub a clove of garlic around the inside of a small casserole, then pour in the contents of the pan, sprinkle over a good helping of cheese, cover, and place in oven for about 30-45 minutes. serves 2-3.
5.23 - pasta with pancetta and onions, sauteed rainbow chard, tomato and fennel salad, knockwurst

5.22 - ben makes vani's chick-pea masala
channa masala

1 T chopped ginger, 2-3 cloves chopped garlic, 1/2 large onion diced, 1-2 tomatoes diced, 1 can tomato puree, 2 cans garbanzo beans (drained and rinsed), 1 t tumeric, 1 T garam masala curry powder, 1/2 t chili powder, olive or vegetable oil, 1-2 dried whole red chili peppers, 1-2 T black (!) mustard seeds, 1 t salt, pinch of sugar, plain yogurt, basmati rice, cilantro

this is vani's mother's recipe, which she has graciously allowed us to add to the site. she says to dchop everything in advance, because this cooks quickly.
in a large pot, heat enough oil to cover the bottom of the pot, and add mustard seeds and dried chili peppers. when mustard seeds start to pop, add onion, ginger, and garlic and sautee until onion is transluscent. add tumeric and mix well, then add garam masala and mix again. (if it starts to burn, just add more oil.) add garbanzo beans and stir to coat with spices, then add tomato sauce. add salt and chili powder to taste. add a pinch of sugar (to cut acidity of tomatoes) and chopped tomato. mix together and let sit over medium heat until cooked, which shouldn't be very long, maybe ten minutes. check consistency of the garbanzos for desired firm/squishyness. garnish with yogurt and cilantro.
for perfect rice: rinse, soak for 10 minutes, stir fry in butter for a minute, then follow regular instructions.
5.12 - japanese-eggplant parmesan and green beans

5.11 - dinner at "north 3rd" in philly

5.10 - porcini mushroom ravioli in butter and cheese with roasted sweet potatoes and spinach salad

5.7 - seared sea bass on rice with black beans and plantains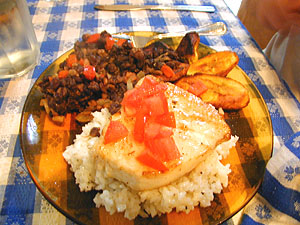 5.4 - brunch at the "standard tap"; trip to the philly italian market; sushi on a road-side bench
5.3 - dinner: gimelli in red sauce; 2nd dinner (1am): guacamole, onion soup, grilled/roasted vegetables, chicken and andouille sausage, garlic mashed potatoes, bruschetta, strawberries in balsamic vinegar with zabaglione creme, bordeaux and muscadet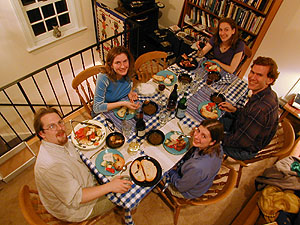 5.2 - shad with thai basil and lemon, grilled yellow squash, cucumber salad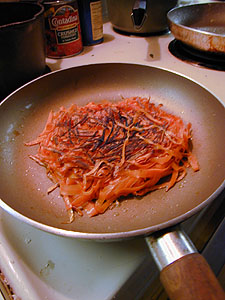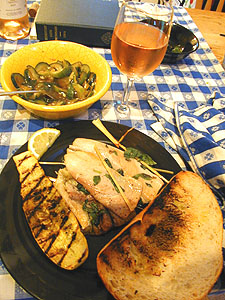 5.1 - steak with cilantro-parsley butter, carrot roesti, butter-sage pasta
cilantro-parsley butter

In the food processor, completely mash up two or three garlic cloves and a couple pinches of coarse salt. Throw in a handful each of cilantro and parsley and let 'er rip. When thoroughly ripped, add a stick of butter. Blend. While the blade's still going, drizzle in some olive oil and lemon juice. Enjoy over steak or damn near anything else.
april | june