Doppler Gang's First CD




Recorded at PLH studios in Folsom, PA, DG's disc is a story of success. The CD was released in the entryway of Sharples Dining Hall on April 8, 1996, at 5:15pm, with a lightshow and an impromptu concert by the entire Fall 1995 cast! The disc is 53 minutes and 15 tracks of all-digital rock and roll, and has been rated PG-13.

I went ahead and kept the old advertising sequence around, for those who liked it or missed it the first time.
AUDIO CLIPS

Of course, what you really want to hear is the music. So here are a few choice selections! (all clips are digital monaudio at 22.05khz, .wav format, and sampled directly from the CD)

TRACK LISTING

What's on this disc, anyway?

Walk of life
Mercy Street
Welcome to the Jungle
Road to Nowhere
It's a Sin
Lights
Stand
Make Me Lose Control
The Devil Went Down to Georgia
I Love Rock and Roll
Freeze Frame
Hazy Shade of Winter
For The Longest Time
Down Under
Fat Bottomed Girls
QUESTIONS AND ANSWERS

Some people are confused by the CD, so here we've answered a few general questions:

Q: What are all the words on the front cover?

A: We had far too many good ideas for an album title. Our solution was just to put all of them on the cover!


Q: Why is the CD rated PG-13?

A: We thought it best to warn folks lest some of the younger members of our audience be shocked by Anne's offensive language in "The Devil Went Down to Georgia".


Q: What's up with the chihuahua?

A: This question merits its own section. Maybe we'll tell you sometime. Check back with us later for the solution to the mystery.....


Q: Why is everyone glowing on the picture inside the cover? (picture attached below)

A: Professor Amy Vollmer from the Bio department injected all of us with the lux gene, same DNA that she uses to make E. coli bacteria glow when they're under stress. And we were singing a really tough song... Notice that Peter is utterly calm, depspite the fact that 600 people are watching him sing a really difficult solo... Amazing guy...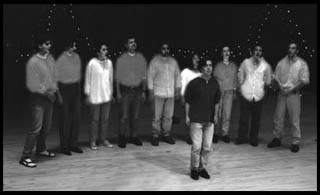 DOPPLER GANG: PURE PREMIUM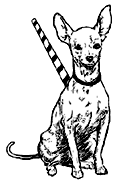 "Because nothing comes closer to this..."
Return to the Doppler Gang Home Page
For booking, orders, or if you have comments on this page, please contact
Evan Dorn at evan@sccs.swarthmore.edu.