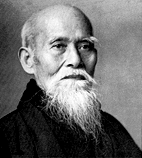 ---
Overview
Aikido is a relatively recent martial art developed in Japan by Morihei Ueshiba (1883-1969), generally referred to as O'Sensei (or "great teacher") among students of Aikido. The word Aikido, which Ueshiba decided upon in 1942, is derived from three Kanji which translate (approximately) as:

Ai - Harmony/Peace
Ki - Energy/Spirit
Do - The Way

Aikido could therefore be translated as "The way of harmonizing energy", though it is difficult to capture the exact meaning of the Kanji, especially "Ki". In a less abstract sense, the techniques of Aikido redirect the aggressive energy of an attacker, causing them to be thrown, immobilized, or otherwise thwarted depending on the skill and intentions of the Aikidoka (a practitioner of Aikido).

The smooth, blending motions of Aikido are often accused of being too "soft" and "impractical" for the purposes of self-defense. Though it is true that it takes a long initial commitment to Aikido for a student to feel that they would be able to use the techniques they have learned to protect themselves from assault, once Aikido has been mastered, it will stay with the student and protect them despite strength, size, or age. Ueshiba is legendary for his prowess even in his 80s, and was still training intently two weeks before his death.
---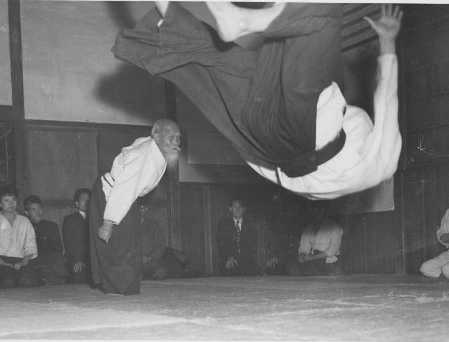 ---
Cool Facts
In some areas, Japanese police officers are required to hold at least a Shodan (black belt) in Aikido.
Aikido is the only martial art allowed in the U.S. federal prison system.
In a recent Florida court case, a man resisting arrest charged the officer involved for using excessive force when his wrist was broken during the application of an Aikido technique. The case reached the Florida State Supreme Court which ruled that the offender broke his own wrist by resisting the technique.
Morihei Ueshiba, founder of Aikido, once pinned a Sumo wrestler using only a single finger.
The government of Japan awarded Ueshiba both their Medal of Honor and The Order of the Rising Sun during his lifetime in recognition of the value of Aikido.
Aikido was among the first martial arts freed from the ban imposed on their practice by the US government after World War II.
Your arm is stronger when you relax it. (!)
The practice of Shikko (or "knee-walking"), which has become an integral part of Aikido training, was originally developed when Japanese feudal lords required that all their followers remain on their knees while in the lord's presence. It later developed into a formal movement in many Samurai ceremonies.
---
Adopted from previous webpage version by Byron Holtz